BY TTT NEWS NETWORK
KOLKATA, 18 JANUARY 2022
 The union minister of tourism,  is organizing the 1st ever  Global Tourism Investors Summit of the country  from 10th to 12th April 2023 in Pragati Maidan, New Delhi to bring together global businesses, thought leaders, and policymakers to understand and explore Tourism Business opportunities in India.
In this regard,  union ministry of tourism has  organized a Roadshow for the Northern region, on 17th January 2023 at CII Northern Region Office, Chandigarh to bring together global businesses, thought leaders, and policymakers to understand and explore Tourism Business opportunities in India.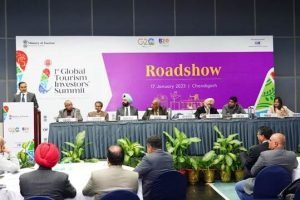 The Roadshow event in Chandigarh was attended by State Governments officials from Chandigarh, Punjab, Rajasthan, Uttarakhand, Uttar Pradesh, and Jammu & Kashmir and had 100+ registrations. Deputy Director General (Publicity, Events, and Social Media Division) Mr. Arun Srivastava represented the Ministry of Tourism at the roadshow.
Mr. Arun Srivastava stated that the Ministry of Tourism is partnering with Central Ministries and State Governments for the 1st Global Tourism Investors Summit and that the event will be a platform to showcase investible opportunities to potential domestic and global investors.
"Pre-pandemic, foreign tourist arrivals in India touched 11 million and the forex generated was Rs 2 lakh crore, providing over 13 per cent direct and indirect jobs in the country. By 2030, we are aiming at a forex contribution to GDP of $56 billion that will generate 140 million jobs," he added.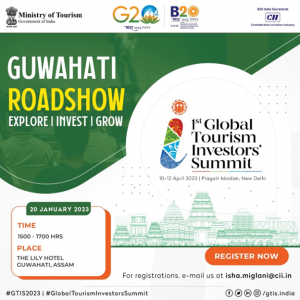 The event focused on promoting India as an investment destination for travel, tourism, and hospitality by identifying State-Specific investment possibilities and discuss avenues to promote sustainable tourism.
The State Officials presented on the recent major policy initiatives by their Tourism/ Industries Department to improve ease of doing business and gave a brief summary of unique fiscal and non-fiscal incentives in the tourism and hospitality sector along with recent investment-related success stories.
The roadshow was organized and planned in order to raise awareness and knowledge about the Global Tourism Investors' Summit.
Mr. Gurkirat Kripal Singh, Secretary, Tourism and Cultural Affairs of Punjab, said: "As the gateway to the nation for Central Asia, a lot of cultural exchanges has happened in Punjab where a lot of historical events have taken place,  which have  significant  value."
The  state government of Punjab is embarking on a series of new initiatives to achieve the ends from the point of view of Punjab.  Punjab's upcoming initiatives in the travel and tourism sector includes adventure tourism, water tourism and caravan tourism etc  , he further said.
In Lily Hotel Guwahati in  Assam on 20 th January  the next  roadshow of first global toursim investors meet in Pragati Maidan in New Delhi on 10 to 12 April will take place.