BY DEBAJYOTI CHAKRABORTY
KOLKATA, 18 JANUARY 2022
Celebrating 100 years, Jugal's is hosting a 2-day first ever  world literature fest on Misti in the iconic heritage site of Town Hall, Kolkata on February 11th and 12th, 2023.
Mishti (sweets ) is  a form of dessert unique to the region of Bengal in South Asia and adored by 300 million Bengalis worldwide.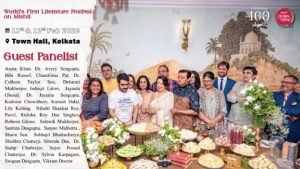 It will bring together under one roof food historians, writers, culinary experts, dairy experts, economists, industrialists to celebrate the legacy of Bengal through nuances of misti.
The two wo-day long convention will be  consisting of panel discussions, open house forums, art and photo exhibitions, and interactive workshops  all on mishti. Each of the sessions at the festival will delve deep into the history, legacy, culinary footprint, economics, socio-cultural impact and most importantly, the future of the dairy-dependent mishti industry.
There will be Panel discussions with eminent panellists like Asma Khan, Dr. Colleen Taylor Sen, Jayanta Ghosal, Bibi Russell, Sanjoo Malhotra, Vikram Doctor, Lily Kelting, Robin Ghosh, Kishwar Chowdhury, Kurush Dalal, Anmol Singh Narula, Swapan Dasgupta and many more.
It is Jugal's vision to create a roadmap for a prosperous sustainable future of the mishti industry, conserve the art of making mishti and put mishti on the global culinary map.
ABOUT JUGAL'S
Jugal's is a famous mishti outlet  in Kolkata and named after Jugal Kishore Ghosh and has started its journey in 1923. Present owner is Mr. Kesto Ghosh and Smt.Lahana Ghosh is the new director.
 The conoisseurs of bengali sweets love the mishti doi, Kacha golla,Chanar Jilipi, Baked Roshogolla, handcrafted nalen gurer rosogolla, Pranohara, Kora paker Sandesh, Danadar, Malai Chamcham and other sweet delicacies . They also offer snacks like the authentic Alu Shingara, crowd favourite- Radhaballabi, Vegetable chop, Khasta Kachori and a wide range of Channachur and Gathiya.
100-year-old Mishti Brand in Kolkata
Specializing in Handcrafted Traditional Sweets
Outlets : Park Circus, Rashbehari, Lansdowne, College Street.