BY TTT NEWS NETWORK
KOLKATA, 28 NOVEMBER 2022
In a big boost towards the further  improvement of the connectivity of North Eastern region , Indigo , India's biggest airline operators have started Itanagar – Mumbai via Kolkata air services from today as union civil aviation minister Jyotiraditya Scindia flags off the first commercial flight operations from Donyi Polo Airport in Arunachal Pradesh in  virtual mode   From New Delhi today.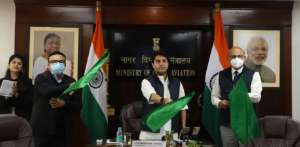 Recently, Prime Minister Narendra Modi has inaugurated the first greenfield airport of Arunachal Pradesh in Holongi , Doni Polo near Itanagar .
" It is a beginning of a new chapter in civil aviation history of Arunachal Pradesh as from today onwards we are going to have direct air connectivity from Donyi – Polo Airport, Itanagar to Kolkata, Mumbai and other metro cities across the country," Mr. Jyotiraditya Scindia said.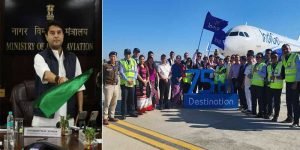 He further added that it is really a very proud moment for the people of Arunachal Pradesh and extended his gratitude to Indigo Airlines, one of the largest and best commercial  commercial flight operators in the country for choosing to operate from Donyi Polo Airport.
Deputy Chief Minister of Arunachal Pradesh , Mr. Chowna Mein said that Alliance Air is starting its fixed wing flight ( Dornier DO_28) services along Dibrugarh- Hollongi- Ziro- Lilabari route from tomorrow onwards and for Dibrugarh – Hollongi- Pasighat route from 30 November . He received the first return flight at Donyi Polo airport.
" We will have fixed wing connectivity to far off border places like Tuting, Mechukha and Vijaynagar in the coming days. Side by side , it will also help other hospitality industry like hotels, accomodation facilities to grow in the state and boost economic activities to a great extent,"the deputy CM added.
The 6E 6749 airbus of Indigo will leave Mumbai 7.40 AM and will reach Donyi Polo ( Hollongi) via Kolkata at around 12.35 PM
The 6E 5312 airbus of Indigo will leave Doyi Polo ( Hollongi) via Kolkata  at 13.05 PM and reach Mumbai at around 18.45 PM from today.
Mr. Anil Punjabi, Chairman ( East), of Travel Agents Federation of India (TAFI) said that he could not attend the  inaugural programme at Kolkata today .
" I am sure there will be demand for more airlines and the North East is a good sector and Donyi Polo is the first greenfield airport in Arunachal Pradesh and Kolkata will also be a beneficiary with the inaugurations of these new flights,"said Mr. Anil Punjabi.
Others present on the occasion  included Mr. Kiren Rijuju, union minister of law and justice, minister of state for civil aviation, Retired General V.K.Singh, secretary ministry of civil aviation, Mr. Rajiv Bansal, principal advisor , IndiGo head office, Mr. R.K.Singh etc.