(Enhances its network with additional flight options on existing sectors from Bengaluru to  Ahmedabad and Pune )
BY TTT NEWS SERVICE
NEW DELHI, 20 NOVEMBER 2022
Akasa Air, India's newest airline, today announced the  addition of Visakhapatnam, the tenth destination to join the airline's fast-growing network and  the eighth city connecting from Bengaluru. Passengers will enjoy the convenience of double  daily flights on the Bengaluru-Visakhapatnam route, with the first frequency starting from   10 December  and the second frequency with the added benefit of an early morning  option from 12 December  2022.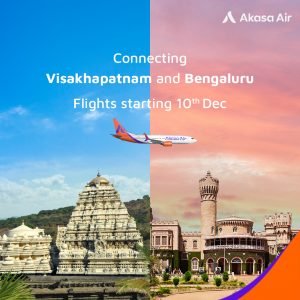 Witnessing a rise in demand, the airline is further augmenting connectivity between Bengaluru  and Ahmedabad by adding a third frequency starting  17 December  2022. Recently Akasa Air,  announced connecting India's IT hubs, Pune and Bengaluru with double daily flights  commencing on 26 November  2022. Starting  10 December 2022, a third frequency is being added  taking the total up to three daily flight options between Pune and Bengaluru. Akasa Air will  now offer 24 daily non-stop flights ex-Bengaluru by connecting to eight cities – Mumbai,  Ahmedabad, Delhi, Chennai, Kochi, Guwahati, Pune, and Vishakhapatnam.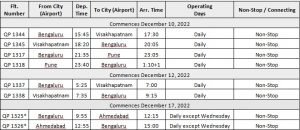 Commenting on the announcement, Praveen Iyer, Co-Founder and Chief Commercial  Officer, Akasa Air, said, "We are delighted to add Visakhapatnam to our expanding network  as the fourth major destination in South India with daily twice Bengaluru-Visakhapatnam Bengaluru. Visakhapatnam is a promising Tier II city and a key player in India's growth story  owing to its advantageous coastal location, real-estate boom, and industrial prospects. Strengthening our connectivity, we are pleased to add one more frequency each on the high demand Bengaluru-Ahmedabad and the debut Bengaluru-Pune routes."

Akasa Air has been progressively scaling up its operations and by mid-December expects to  cross over 450 weekly flights on a total of fourteen routes across ten cities – Ahmedabad,  Bengaluru, Kochi, Chennai, Mumbai, Delhi, Guwahati, Agartala, Pune and Visakhapatnam. It  will continue to grow its network to establish a strong pan-India presence with a focus on metro  to tier 2 and 3 route connectivity, using a fleet expansion plan that adds one new aircraft every  15 days. Akasa Air's fleet size will be 18 aircraft by the end of March 2023 and over the next  four years, the airline will add 54 additional aircraft, taking its total fleet size to 72 aircraft.
About Akasa Air
Akasa Air will be India's newest and most dependable airline, offering warm and efficient customer service, reliable operations, and affordable fares – all in the Akasa Way. Akasa's youthful personality, employee-centric philosophy, tech-led approach, and culture of service will make this commitment a reality for all Indians. The carrier launched its first commercial flight on 07 August 2022 to support the growing demand  in aviation sector across India.

With a commitment to being socially responsible, Akasa Air has placed a firm order of 72 Boeing 737 MAX airplanes, powered by CFM fuel efficient, LEAP-1B engines. The 737 MAX family aircraft deliver superior efficiency in reducing fuel use and carbon emissions, fulfilling the airline's promise of being an environmentally friendly company with the youngest and greenest fleet in the Indian skies.