BY TTT NEWS SERVICE
AHMEDABAD, 10 AUGUST 2022
Chief Minister of Gujarat, Bhupendra Patel will inaugurate the five star ITC Narmada Hotel at Ahmedabad tomorrow afternoon.
Architecturally inspired by the stepwells of Gujarat, and with traditional 'toran' gateways adorning its façade, ITC Narmada, Ahmedabad is a glowing celebration of the culture, arts, and crafts of  the region. Certified as Gujarat's first LEED Platinum hotel, ITC Narmada, with its prime location, luxurious facilities, as well as ITC Hotels' renowned warmth and repertoire of signature services, endeavours to make each stay a memorable one.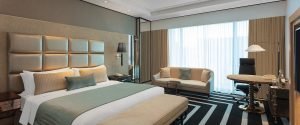 Spread over an area of 6 lakhs square feet in the upscale Judges Bunglow Road area of Ahmedabad, the IT group has pumped in Rs.600 crores to build this hotel.
This will be the 12 th property of the ITC group in Gujarat.
The special features include – 291 rooms and suites – amongst the largest in the city.  It has signature food and beverage outlets including Peshawari, Royal Vega, Yi Jing and more versatile banqueting and meeting spaces, spa, fitness centre and salon.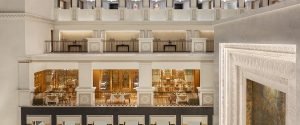 Meetings and Celebrations : Narmada State Room , offering 427 square metres of pillarless banqueting space, is an ideal venue for a variety of celebrations , conferences  and events – from intimate to grand. This versatile banquet hall can be divided into two distinct sections. Pre-function areas add to the space seamlessly.
The hotel also offers a host of smart and elegant meeting  spaces and board rooms , with state of the art facilities.
"In line with ITC Hotels' philosophy of being rooted to the soil, ITC Narmada draws inspiration from the river Narmada along with the iconic architecture, vibrant culture and grandeur of Gujarat.
Influenced by the Toran of Vadnagar, the grand hotel façade is a symbolic representation of the gateway to the region. The unique atrium stepwell-design celebrates the renowned Adalaj Ni Vav – famous for its architectural brilliance, while the river Narmada is depicted in the form of a magnificent waterfall in the center of the atrium," ITC Hotel sources said.
About ITC's Hotel Group
Launched in 1975, ITC's Hotel Group is the hospitality business of ITC Limited. With over 100 hotels in 70 destinations across six distinct brands, ITC's hotel group integrates India's renowned tradition of hospitality and warmth, with globally benchmarked facilities & services.
ITC Hotels: With 'Namaste' as the enduring symbol of its brand experience and 'Responsible Luxury' as the guiding premise, ITC Hotels are an archetype of the culture and ethos of each destination offering authentic, indigenous luxury experiences which are in harmony with the environment and society. ITC Hotels also has an exclusive tie-up with Marriott's 'The Luxury Collection' brand in India. With a platinum grade commitment to our guests and the planet, each ITC Hotel is certified with a LEED® (Leadership in Energy and Environmental Design) Platinum rating for globally recognised planet positive endeavours.
Mementos: Mementos by ITC Hotels is the latest addition to ITC's Hotel Group, which operates over 100 hotels, 10,000+ rooms across 70+ destinations in India. The launch of the new luxury brand further strengthens the group's distinct portfolio, that is renowned for its unique design philosophy, award winning cuisine, signature services & globally recognized sustainability initiatives. Mementos by ITC hotels will bring together a collection of unique hotels, across varied destinations ranging from modern marvels, hidden retreats to historic treasures.
Welcomhotel: Welcomhotel is a collection of premium hotels designed for those who demand more and seek curated experiences, to optimize their travel intent. Present in locations ranging from hills to beaches, and deserts to cities, the brand is reflective of the warmth of Indian culture while upholding the benchmark standards of ITC Hotels. From curated journeys that enhance leisure trips, to those that maximize the efficiency of business stays, every effort is made to add value to the new-age traveller.
Storii: Storii is a collection of handpicked boutique properties, designed to satiate the ever evolving needs of the global traveller. Consisting of intimate sized properties in the premium segment you will find STORII at both expected and unexpected destinations Breath-taking locales or sites steeped in history, golden untouched beaches or jungles thriving with adventure, quiet scenic valleys or deserts buzzing with folklore. Each will offer a distinct experience, so that no two stays are the same. Whether it is a date with the surroundings, or a weekend of wellness, some quality solitude or joyous moments with family and  friends with the help of these unique stays, the brand will tell a story like no one else. The hospitality is warm, inviting and unassuming. It will give its guests the comfort of their home by engulfing them with curated & bespoke engagements.
Fortune Hotels: Fortune  Hotels  are  full-service, proficient  business  hotels  with the impeccable  lineage of the ITC's hotel group. Ever ready to take care of the global traveller, these  hotels  are  buzzing  with energy, successfully blending traditional  Indian hospitality with contemporary international facilities. Business  travellers  will  find  comfortable accommodation, facilities for meetings and conferences, the full complement of technical and secretarial support and more in an atmosphere of smooth, reliable efficiency.
WelcomHeritage: A joint venture between ITC Ltd and Jodhana Heritage, established in the year 1997, WelcomHeritage represents the finest traditions of heritage hospitality and tourism in India with a unique portfolio of Palaces, Forts, Havelis and Resorts spread across 37 scenic and tranquil destinations. Our endeavor is to create a special balance between local traditions and modern-day requirements thus creating best-in-class authentic experience without losing the Heritage ethos in some of the country's most inspiring destinations.