BY DEBAJYOTI CHAKRABORTY
DARJEELING, 12 AUGUST 2022
TAJ Chia Kutir Resorts and Spa, Darjeeling launches three days 'Magical, Mystical, Mesmerising', Moonlight Tea Plucking Festival – The Makaibari Way from 11 to 13 August.
Earth friendly and its barefoot – best witness and be part of a rare celestial moment and hand plucked teas. Taj Chai Kutir and Spa is a sybaritic resort, rich in views and located right in the middle of the perma- cultural, Makaibari Tea Estate founded in 1859, in Kurseong, Darjeeling.
ON DAY ONE: Welcome Ceremony – Makaibari Tea blend, Nepalese performance, ceremonial khada. High Tea at Chia Verandah. Chef's Special cuisine of the Bengali and north west frontier for dinner.
ON DAY TWO:  Breakfast buffet at Chia Verandah, morning guided valley trek, Makaibari Tea factory visit, Elaborate Tea tasting with master tea connoisseur at Darjeeling room, evening tea based cocktails and beverages at Kanchenjunga, Ceremonial Moonlight Tea plucking at tea estate, Himalayan thali experience at a designated venue.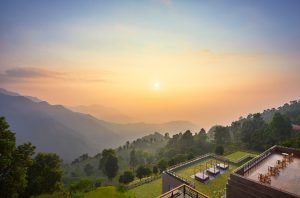 ON DAY THREE: Breakfast buffet at Chia Verandah,presenting souvenir, closing ceremony and fond farewell. Moonlight tea plucking package starts at Rs.57,700 plus taxes at double occupancy for two nights.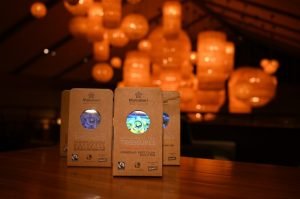 TERMS AND CONDITIONS:
Mandatory stay for two nights, itinerary is as per the curated package only, essentials to visit tea gardens- jeans and boots, room rates are excluding 18 percent GST.
LOCATION:
Located about  6,700 feet  high above the sea level on the steep slopes of the  Himalayan mountains and surrounded by the ice-capped peaks of the  world's third tallest  mountain, Khangchendzonga,  the scenes  are breath-taking.
Wild elephants and leopards  roam the valley ridges and Buddhist monasteries cling to the slopes, but it's Darjeeling's vast blanket of emerald-green tea  gardens that has led its GI Tag  crop to be called the 'Champagne of Teas'.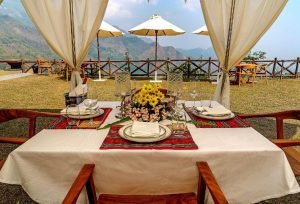 All the  87 tea estates of Darjeeling are popular   for producing delicate and  muscatel-flavoured brews. But located about 33 kilomretres away to the south from the  Victorian-era resorts to the world's oldest tea factory,  is the rarest leaf and bud of the globe.
Moonlight tea plucking is a spiritual ceremony of waiting patiently for the stars to align, to savour the optimal harvest of the most exotic and finest tasting teas in the world.
Silver Tips Imperial, are  only plucked by experts at the  Makaibari Tea Estate on clear, full-moon nights  to yield the best harvesting conditions .
This mystical Oolong is both  cosmic and costly , making  it the most expensive tea ever produced in India.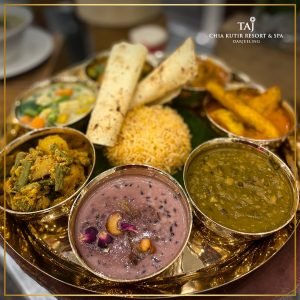 The Taj Chia Kutir Resort and Spa  is set amidst the plush  tea estate, green acres rolling upon each other as far as the eyes can see, intruded upon only by the sweeping mist. The air is as crisp and fresh as the Makaibari second flush that in tea auctions fetches $1850 per kg, the most expensive Indian tea ever traded. The estate sustains local communities and regenerative practices, thereby integrating the garden and home concept which impacts less on the environment. No wonder, the birds here are happy and the earth smells wonderful.
The resort unfolds like a gripping novel on a hill bound train chugging through mist and mountains. On closer view, it incorporates elements of bamboo, timber and stones distilling the essence of Makaibari into contemporary architecture, with the laddered perch that warms up to you with every step. The lobby is a high-roofed structure that brings in golden sunlight and bathes the interiors with warmth. The prized perches are of course at the edge where snug sofas guide your views to the mist and green acres all around. Flourishes like the terracotta wall inspired by the Bishnupur temple moors you to the region.
The 72 resort rooms and plantation suites ooze space. They are kitted with creature comforts, discerning wooden interiors, telescopic views and in most cases balconies that bring in the vibes of a hill station estate. Ideal for open air enthusiasts to sip tea and laze. The four poster beds and snug duvets nudge you to sleep in for a moment more. The restaurants with a perch of their own serve seasonal, provincial and small farms produce, apart from a range of Asian and international cuisine that keeps the palate busy. Meeting rooms and a panoply of airy spaces with their lofty seats are fine spots for leadership retreats or for destination weddings. There's much to keep you in, including an all glass bar with an enchanting view. A Jiva spa and Indoor heated pool welcome you to a world of age-old healing and wellness.

Hotel Highlights:
Set in the middle of the famous Makaibari tea estate that dates back to 1859 Barefoot luxury at its best amidst plantations, permaculture and a sustainable ecosystem.
Located In Kurseong, Darjeeling amongst the eastern Himalayas that breathes the finest air.
The quintessential luxury estate experience with provincial restaurants like Sonargaon and organic experiences.
The Jiva spa, an Indoor heated pool and Himalayan wellness.
Misty and magical Makaibari.