BY TTT NEWS NETWORK
KOLKATA, 12 MARCH 2023:
In a bid to boost tourism further, Indian and other SDF fee paying tourists coming to Phuentsholing or Thimphu in Bhutan can now buy tax free gold. The only condition being  that they have to stay in a tourist certified hotel and pay  the ( Sustainable Development Fee) SDF. The gold  rate will be much more cheaper than in India.
The gold will be sold by Duty Free outlets which normally sell luxury items and are owned by the Finance Ministry. Apart from being tax free Bhutan's Duty Free outlets will not make any profit as the aim is to promote tourism.
As per India's Central Board of Indirect Taxes & Customs (CBIC) rules each male Indian can bring Rs 50,000 gold (20gm) and each Indian woman can bring 100,000 (40gm) worth of gold tax free into India from abroad.
One update is that Indian tourists will have to bring USD to buy the gold. This is because Bhutan will use the same USD at zero profit to purchase the tax free gold from international markets. Currently many Indians have to fly all the way to Dubai etc to buy cheaper gold.
Traditional Gold Jewellery-
Made with precious metals by skilled goldsmiths, Bhutanese jewellery allure tourists with their fine aesthetics. These beautiful ornaments are widely worn by women and used on a daily basis and in special ceremonies. Believed to have been created by the Gods to bring luck and fend off evil, the Himalayan Beads (Dzi Beads) are an inseparable part of the Bhutanese culture. They come in different shapes and sizes and are available in plenty throughout the country. They complement your spiritual enlightenment in this Buddhist kingdom.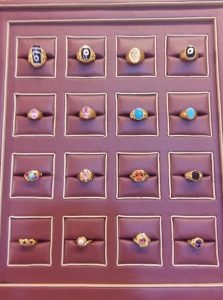 All tourists can buy 20 grams of gold if they fulfill the following requirements:
Pay Sustainable Development Fee (SDF)
Produce receipt for spending a minimum of one night in the Department of Tourism certified hotel.
Pay in USD
Produce visa/permit copy. Or SDF payment receipt issued by the Department of Revenue and Customs
Submit photocopy of the passport and voter identity card also accepted for Indians.
Duty Free Shops: Location & Contact Numbers
Phuntsholing
Address: Bank of Bhutan (Main Branch)
Contact: 17455553
Opening Hours: 10am – 3pm (Monday – Friday) & closed on weekend
 Thimphu
Address: Norzin Lam, Chubachu
Contact: 17856807
Opening Hours: 10am – 3pm (Wednesday – Monday) & closed on Tuesday only.