BY TTT NEWS NETWORK
KOLKATA, 12 MARCH 2023:
After setting up the counytry's first unmanned  idli ATM, now Chennai has once again been in the news with the inauguration of the world's first unmanned Biryani ATM at Kolathur- BKV Biryani ( Bai Veetu Kalanam ).
This start up company now plans to add another twelve unmanned biryani ATM outlets in the city in the coming days. 24×7 hot and fresh biryanis will be served to the customers.
The ATM has 32 inch touchscreens and the customer has too enter his mobile number and give order of the menu and then pay by either through cards or QR codes. The entire operation takes about few minutes.
Already a food blogger has shared a video clip of the Biryani ATM and it instantly went viral.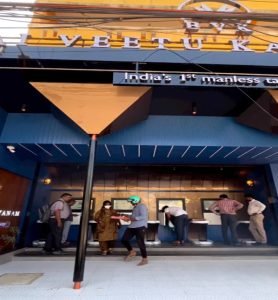 Faheem S, co founder and chief executive officer of BVK said that they will open a dozen such outlets in Chennai in the next few months and then slowly will have their pan indian footprint.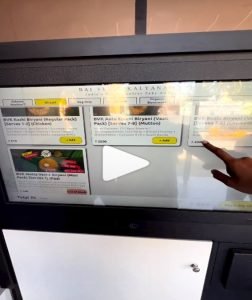 The food is prepared in house and traditionally in coal and firewood and all the ingradients are purchased daily. Even the spices and masalas are prepared inhouse to make the taste authentic and intact.
Location:
No. 1, 3, Red Hills Rd, Somanathapuram, Kolathur, Chennai, Tamil Nadu 600099
Price- Mini mutton biryani -345/-
https://www.instagram.com/reel/CpcfNwLLDQ8/?utm_source=ig_web_button_share_sheet