BY DEBAJYOTI CHAKRABORTY
KOLKATA , 15 SEPTEMBER 2022
Chief Minister of Meghalaya, Mr. Conrad Sangma has announced that the first five star property in Shillong , which has been left abandoned will open in a new avatar as Vivanta by Taj after 36 years.
Mr. Conrad Sangma and other top officials of Meghalaya government visited the hotel yesterday and broke the news. The hotel is likely to be opened on 26 September.
Talking to media persons after his visit, Mr. Conrad Sangma said that there is a feeling of containment as the officials inspected the hotel before handing it over this month.
" Erstwhile Crowborough Hotel, left abandoned for over 36 years, will be rechristened and opened as Taj Vivanta, Shillong, making the property the first five star hotel in Meghalaya," added Mr. Conrad Sangma.
The Vivata, Shillong will be run by the Indian Hotels Company Limited (IHCL) , backed by the Tata group.
Located at the heart of the Shillong city, the new Vivanta by Taj will have 100 keys, including eight economy rooms, 58 standard rooms, 30 deluxe rooms, five suites, one banquet hall and one coffee shop.
CM Conrad Sangma  further added that about 150 people will get direct employment opportunities in the new hotel in various capacities. He inspected the ongoing work of the brownfield project.
First proposed and conceived in 1987, the Crowborough Hotel has been continuously on  the news due to  innumerable delays in completion of the building construction work since the past three and half decades.
Taj Vivanta Shillong is coming up in the heart of the city, Police Bazaar and is the first 5 star hotel in Meghalaya. This property is very important for the entire state, as it will fulfil the long pending need of premium class accommodation in Shillong.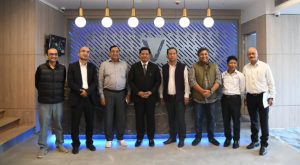 Shillong is a hill station in the north eastern part of India and the capital of the state of Meghalaya. It is called the "Scotland of the East"  and also  the "Rock Capital of India". It has been selected as one of the cities under the Government's 'Smart City' programme. Shillong is a two and a half hour scenic drive from the international airport at Guwahati in Assam.
The Indian Hotels Company Limited (IHCL) is South Asia's largest Indian hospitality company by market capitalization. It is primarily listed on the BSE and NSE.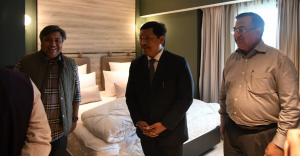 The second five star hotel is coming at Jail Road in Shillong as the Marriott Group is setting up the greenfield Courtyard  by Marriot, informed Chief Minister Conrad Sangma.
The CM said that in the next few months the state has taken a number of steps and new  events to boost the tourism of Meghalaya.
The  development of the seven north eastern states are very important under the Act East Policy of the Narendra Modi government  at the centre and also for tourism development of Incredible India.