BY TTT NEWS NETWORK
KOLKATA, 19 DECEMBER 2022
The Adani Group owned Lokpriya Gopinath Bordoloi International (LGBI) Airport in Guwahati has issued an advisory to passengers to arrive atleast three hours before their departures of domestic and international flights in wake of the growing road congestions due to various reasons.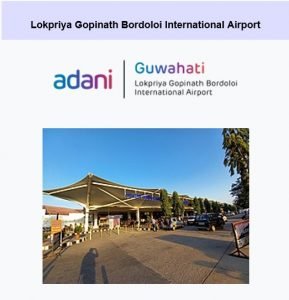 In recent times there has been an increase in VIP movements and tourists going for vacations leading to road congestions and traffic rerouting.
To avoid missing of flights the airport authority has issued an advisory to the passengers to arrive at least three hours before their scheduled departures.
The LGBI Airport in Guwahati presently handles 120 flights per day with over 15,000 passengers daily.
The construction work of the  new integrated terminal building is going on a full swing at the moment and and is likely to be operational by 2024, which will solve such problems of handling heavy passengers at peak periods.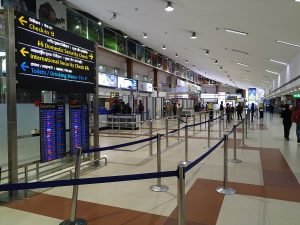 To meet the growing demands and rising traffic in the future, the Airports Authority of India (AAI) has undertaken constructing a new second passenger terminal in the northern side of the airport, at a cost of ₹ 1,232 crores.
The new terminal building will be capable to handle 4,300 domestic and 200 international passengers during peak hours and about 10 million passengers annually. It will be equipped with 64 check-in counters, 20 self-check in kiosks, six baggage counters, in-line baggage security screening systems and 10 aerobridges.
Lokpriya Gopinath Bordoloi International Airport (IATA: GAU, ICAO: VEGT), also known as Guwahati International Airport and formerly known  as 'Borjhar Airport', is an international airport serving Guwahati, the largest city of North-East India in Assam, India, and is also the primary airport of North-East India. It is the 12th busiest airport in India. It is located at Borjhar, 26 km (16 mi) from Dispur, the capital city of Assam and 28 km (18 mi) from Guwahati, and is named after Gopinath Bordoloi, a freedom fighter and the first Chief Minister of Assam after India's independence. The airport is managed by Airports Authority of India and also serves as an Indian Air Force base.
In 2002, the first international flight operated by Air India from Guwahati to Bangkok, using an Airbus A310 aircraft, becoming the first international airport in the North-East region.