BY TTT NEWS SERVICE
KOLKATA, 21 JULY 2022
The ministry of Civil Aviation, government of India  has issued notification today directing all scheduled airlines operators to take no additional charges for issuing boarding passes at Airlines Counters.
The notification was issued by Mritunjaya Sharma, deputy secretary, , ministry of civil aviation, DT Section, New Delhi ( AV-29017/14/2020-DT Section- MoCA – Part (1) on 21 July 2022.
Commenting on this latest directive of the MoCA, Anil Punjabi, Chairman ( East) of Travel Agents Federation of India (TAFI)  told The Travel and Tourism Times  that a lot of passengers who are not computer literate will be relieved and the money will be saved.
" After a long time the fare graph will go down. It's a good move by the ministry of civil aviation and we welcome this initiative,"said Anil Punjabi.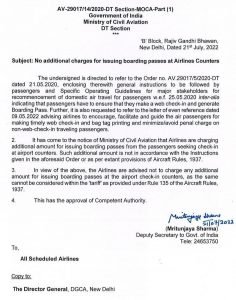 " The undersigned is directed to refer to the order which has been issued today , enclosing therewith general instructions to be followed by passengers and Specific Operating Guidelines for major stakeholders for recommencement of domestic air travel for passengers with effect from 25.5.2020 inter alia indicating that passengers  have to ensure that they make a web check –in and generate Boarding Pass. Further, it is also requested to refer to the letter of reference dated 19.5.2022 advising airlines to encourage , facilitate and guide the air passengers for making timely web check- in and bag tag printing and minimize/ avoid pennal charge on non- web- check – in travelling passengers.
It has come to the notice of the Ministry of Civil Aviation that Airlines are charging an additional amount for issuing boarding passes from the passengers seeking check- in at airport counters. Such additional amount is not in accordance with the instructions given in the aforesaid Order or as per extant provisions of Aircraft Rules, 1937.
In view of the above, the Airlines are advised not to charge any additional amount for issuing boarding passes at the airport check –in counters, as the same can not be considered within the 'tariff' as provided under Rule 135 of the Aircraft Rules, 1937.
This has the approval of the Competent Authority,"the notification said.
A copy of this notification has also been forwarded to the Director General of Civil Aviation (DGCA), New Delhi.
Already the  Narendra Modi led union government has taken a host of passenger friendly initiatives and  is keen to promote air travel amongst the common people and has  launched the low cost Udan Scheme (Ude Desh Ka Aam Nagarik) .