BY TTT NEWS SERVICE
KOLKATA, 23 JULY
The country's newest  entrant in domestic air operations, Rakesh Junjhunwal's most hyped Akasa Air's commercial   take off will begin from 7 August between Mumbai and Ahmedabad.
Akasa Air will operate commercial  flights from 13 August in the Bengaluru- Kochi sector. Akasa Air sources said that weekly 28 flights will operate initially between Mumbai, Ahmedabad, Bengaluru and Kochi.
The flight bookings have already started from 22 July in these sectors.
" We are extremely excited to finally be  able to offer up our flights for sale. We are also excited to reveal our product which promises to be unlike anything experienced in the category thus far,"said Vinay Dubey,  founder and CEO of Akasa Airin a statement .


Café Akasa – the buy  on board meal service offers menus like pasta, vietnamese rice rolls,  hot chocolates, and round the year festival menu inspired from Indian cuisines, the company sources said.
Bookings are taking place through mobile apps, mobile web and desktop website, www.akasaair.com  through online and travel agents.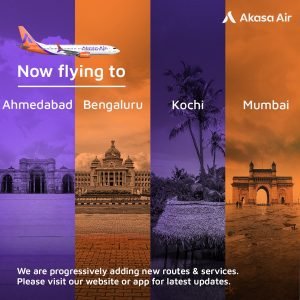 Akasa Air, the ultra low cost airline is  a brand of SNV Aviation Private Limited, is an Indian low-cost airline headquartered in Mumbai, Maharashtra, India.  At present it has two numbers of 737 MAX aircrafts. In the coming days more aircrafts will join its fleet.
Already 72 Boeing 737 Max aircrafts have been ordered and 18 will be delivered this year. From mid- 2023 Akasa Air has plans to start international commercial passenger flight operations.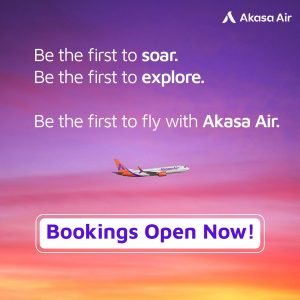 Recently, Akasa Air has received a NoC from the Director General of Civil Aviation (DGCA) for commercial flight operations.
The prices of all its maiden operations – Mumbai, Ahmedabad, Bengaluru and Kochi have been very much competitive in the category, experts said.