BY TTT NEWS NETWORK
KOLKATA ,27 JANUARY 2023
On the occasion of the auspicious 550th Advent Ceremony of Sri Sri Nityananda Mahaprabhu , a nine days celebration is being  held at 'Nitai Badi', Birchandrapur in  Birbhum district of West Bengal.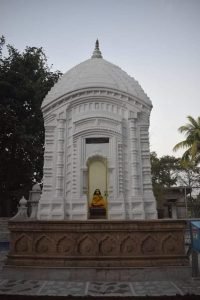 The celebration began on Thursday. A colorful rally was organized as part of the celebration by the devotees.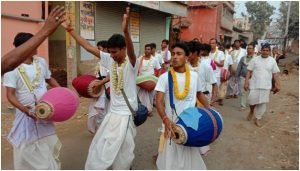 Mr. Ashis Banerjee, deputy speaker of West Bengal  Legislative Assembly formally inaugurated the programme and paid tribute to Lord Nityananda. Addressing the inaugural programme  Mr. Ashis Banerjee said, "Nityananda Prabhu was a great social reformer who thought about upliftment  of the common people. This is the holy place where he was born. This Ashram is also working for the welfare of common people."
Mr. Narottom Gupta, the Adhakshya of Netai Badi  has informed , "Apart from performance of various rituals, cultural programmes, distribution of clothes and other things, community – lunch ( langar)  will be held during the nine day festival. Devotees from different parts of the state and the country have already started coming."
Sri Nityananda Mahaprabhu was the closest associate of Sri Chaitanya Mahaprabhu, the founder of Vaishnavism. Rarely the name of Nimai is (Sri Chaitanya Mahaprabhu) taken without that of Nitai (Prabhu Nityananda). Sri Nityananda Prabhu was born in Ekachakra, a small village in present West Bengal, around the year 1474. His birthplace is commemorated by a Temple –complex managed by Sri Sri Nityananda Janmasthan Seva Mandal . It is popularly known as 'Nitai Badi'.
BIRCHANDRAPUR TEMPLE-
The Birchandrapur Temple is situated about 10 kilometres away from the pilgrimage town of Tarapith. The place is famous for Sri Sri Nityananda Swami, co-founder of the Baishnab religion along with Shri Chaitanyadev.
Birchandrapur, named after Birbhadra Goswami – son of Nityananda, is a part of the village Ekachakra, which according to mythology has been inhabited by the Pandavas.

Infact, the  Pandava Tala nearby, which is just a 5 minute walk from the temple. Pandava Tala is said to have housed the Pandavas during their exile. ( Above photo – the place where Pandavas stayed during their exile)