BY TTT NEWS NETWORK
KOLKATA, 27 JANUARY 2023:
The 'Bangkok Design Week 2023' is scheduled to take place from 4-12 February across nine prominent districts of the Thai capital under the theme "urban'NICE'zation".
Organised by Thailand's Creative Economy Agency (CEA) together with 60 public and private sector partners, this year's event is the sixth edition of what has long been a fixture on the Bangkok event calendar and which helps to highlight Bangkok's role – since 2019 – as a City of Design in UNESCO's Creative Cities Network (UCCN).
The 'Bangkok Design Week 2023' have defined the year's theme "urban'NICE'zation" into six aspects: Nice for Environment, Nice for Mobility, Nice for Culture Preservation, Nice for Business & Economy, Nice for Community Living, and Nice for Diversity.
Reflecting the  theme, there are over 530 online and offline activities spread throughout the nine districts of Charoenkrung – Talad Noi, Yaowarat, Samyan – Siam, Ari – Pradipat, Phra Nakhon / Pak Khlong Talat / Nang Loeng, Wongwian Yai – Talat Phlu / Khlong San, Bang Pho, Phrom Phong, and Kaset.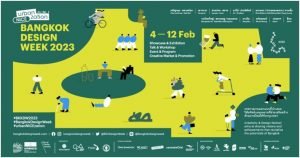 Activities are organised in four main categories:
Showcases and Exhibitions of tangible concepts and prototypes developed by creators of various fields to create new ways of living.
Talks and Workshops in online format by Thai and international creative thinkers to share knowledge and inspire new ideas to the audiences.
Events and Programmes ranging from musical performances, movie screenings, and performing art, as well as parties and open houses in an online format.
Creative Market Platforms and Promotions in both online and offline modes that encourage sales opportunities and market trials that lead to local and international business opportunities, as well as promote sales of the shops within the district.
Bangkok Design Week (BKKDW) proposes the prominence of Bangkok's design and creative works. Through these works, the festival presents ambitious ideas and new possibilities of Bangkok, now and in the future.
Celebrated in the creative districts, these creative works range from experimental pieces to the works with social and business impacts. With fun activities and memorable experiences, the festival is blended beautifully with the charm of Bangkok and attracts visitors from across the world to experience Bangkok's latest happening.
BKKDW has long been a fixture on the Bangkok event calendar: it contributes to the growth of the creative industries and propels Bangkok to stand out as a UNESCO Creative City Network, Bangkok City of Design. The event is organized by Creative Economy Agency (Public Organization) or CEA, in collaboration with over 60 state agencies, public organizations, academia, and international institutions, as well as 2,000 designers and creative businesses, which draws an estimated number of 400,000 visitors at home and abroad.
With over 1,750,000 visitors and a total economic value of up to 1,368,000,000 baht generated in 5 times of the festival, BKKDW has been presenting new possibilities and significant potential of creators, entrepreneurs, public and private sectors, educational institutes, as well as various cooperation agencies, both domestic and international.
BKKDW is a growth engine for Thailand's creative industries in a variety of ways, including showcasing creative businesses and designs, stimulating competitiveness, providing a local and international business networking opportunity, and generating economic momentum for downstream businesses such as marketing, printing, online media, galleries, cafes, restaurants, gifts & souvenirs, travel, hotels, and public transportation.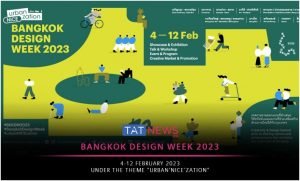 About CEA
Established on 14 August 2018, the organization formerly known as Thailand Creative and Design Center (TCDC) is now Creative Economy Agency (Public Organization): CEA. Under the supervision of the Office of the Prime Minister, CEA has taken on a stronger role in fostering the creative economy for the sustainable economic development of Thailand.
One of CEA's missions is to put forth the development of the creative district. By promoting the district and its conducive atmosphere to new businesses, CEA is aiming to connect the local community with each stakeholder.
With creativity as a key driver for leveling up businesses and quality of life, CEA is tasked with enhancing the prominence and competitiveness of Thai entrepreneurs and the creative network to advance Thai creative industries.