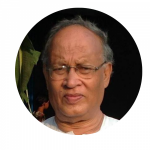 BY ROBIN GHOSH
(FORMER CHIEF ECONOMIST, BENGAL CHAMBER OF COMMERCE AND INDUSTRY)
KOLKATA, 12 SEPTEMBER 2022
The marketing process, be it product or service, has undergone a revolutionary change. Previously, customers would walk into a shop, talk to the salesman, select the product, decide on the price, pay the money and walk away with the product. This is buying from a brick and mortar store.
But post pandemic, customers started feeling that for safety of health , it will be worthwhile to order goods online from the comfort of home and receive goods at doorstep.
Here, customers are simultaneously interacting with both the world: physical and digital. Customers are connected with physical and digital touchpoints.
Progressive companies worked hard to discover a marketing strategy which connects both the physical and the digital space.
Customers' world has now altered: new digital bazaars have come up with wide choice and offers. Significantly, delivery logistics have improved: customers now have omnichannel experience.
Now, therefore, marketers have to design a marketing strategy which provides an omnichannel experience to lure customers to buy your brand. This is the brave new world.
A recent Harvard Business Review Report supports this multichannel approach. 46000 customers were surveyed. 73 % said their buying decisions are based on omnichannel interaction with the brand.
The key takeaway is Digital platforms are the most important weapon in today's marketing arena. Omnichannel marketing is very powerful because:
1 .Delivers seamless and delightful customer experience.
2 .Provide sustainable solutions to increase consumer spending.
3 Enhances purchase experience
4 .Saves travel time
5 .Ensures customer retention.
6 . Improves profitability Omnichannel marketing is a powerful
marketing tool.
Few companies have realized this. MSME companies must strive for best practice capabilities to provide a joyful shopping experience.
No doubt utility and price are the key parameters that decide consumer spending, yet convenience is equally important. Customers do not hesitate to buy a higher priced product or service if it adds value to
their aspirations. Marketing strategy is basically a combination of action oriented events to entice the target customers, to press the buying button in favour of your brand.
If this has to happen, then two things are important. First, you have to understand the mind of the customer: in short , his value orientation, his preferred choice, his priority.
Second, does your product or service display or convey the perceived value the customers are looking for? To select the product, the customer starts hopping many channels like Amazon, Flipkart, Google, Facebook and so on.
He stops when he finds his perceived value matches with the price he is ready to pay for.
To conclude, omnichannel refers to creating your brand's presence across multiple online (websites, app, social media, email) and offline ( brick and mortar shop).