DEBASHREE CHAKRABORTY
KOLKATA, 2 JULY 2022
Reliance Brands Limited (RBL), a subsidiary of Reliance Retail  plans to set up franchise outlets of Pret a Manger, a British coffee and sandwich cafeteria chain  pan India.
With the growing number of domestic and international air passengers as the world returns back to normalcy post the covid- 19  pandemic outbreak, the Reliance arm plans to set up outlets with special focus in the airport lounges of the country.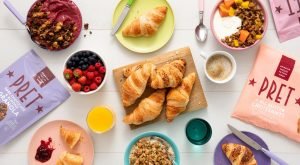 Presently Starbucks, the joint venture project of Tata Group and Seattle based Starbucks are the leading players with over 272 outlets ,spanning over 28 Indian cities.
To further attract the customers, Reliance Brands plan to  serve freshly cook foods instead of the pre cooked  foods heated  through microwaves and served hot to the customers in the indian cafeterias in its newest venture.
It will be a mix of meeting places and also for leisure and relaxation, RB sources said.
The first outlet of Pret A Manger was opened in London in 1986. Presently, it has over 550 outlets in nine countries which includes UK, US, Europeand Asia. It offers organic coffee, hot chocolates, iced
tea , sandwiches, salads, wraps etc. Ikts bakery items included baguettes,croissants, cookies etc. They also take online orders. Every Pret shop has its own kitchen.
The present trend in the  Indian cafeterias is that about 20 percent of the menu chart are of local demands and the rest are continental.
WHY FOCUS ON AIRPORTS
With the entry of low cost carriers (LCC)  and ultra low cost carriers (airlines operators), there has been a growing demand for both the domestic and the international passengers. The demand for fast foods and meals outlets in Indian Airports have increased several times.
LCC and ULCC carriers do not provide inflight catering services and as a result growing numbers of   fast food outlets are opening in the airports these days.
The airport quick service restaurants (QSR) market is anticipated to register a CAGR of more than 4.5 percent  growth in Asia- Pacific region between 2022 to 2027.
With high pricing and low quality of the inflight ready made microwave heated foods, the demand to to bring your own food (BYOF) concept is becoming popular especially in India's domestic air passenger sector.


In India not only the present airports are being revamped and expanded but also a large number of new greenfield airports are coming up in the next few years, which will further increase the number of domestic passengers and expand the business of the existing airport QSR markets.
According to travel and tourism industry reports, in the month of May domestic air passengers have been 1.14 crores in India and 72 percent of the international flights have already resumed.
Travel and tourism in India , both domestic and international, will further boom in the fiscal year 2022-2023, feels experts.