DEBAJYOTI CHAKRABORTY
HYDERABAD, 2 JULY 2022
THE FUTURE OF WORLD'S SUSTAINABLE ENERGY
Nation's power behemoth National Thermal Power Corporation (NTPC) has successfully commissioned the country's largest floating solar power project in the government sector with an installed capacity of 100 MW at Ramagundam water reservoir in the state of Telengana.
Bharat Heavy Electricals Limited (BHEL) has bagged the engineering, procurement and construction (EPC) contract of the project earlier.
The cost of the project is Rs. 423 crores  and has  4.48 lakh photovoltaic panels which are floating over the 500 acre vast water body in the Ramagundam Power Plant of NTPC.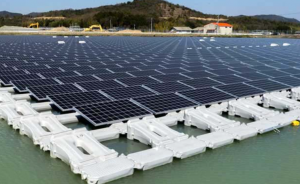 It is divided into 40 platforms of 2.5 MW each with each block consisting of one floating platform.
NTPC official sources said that the uniqueness of this project is that all the electrical equipment like inverter, transformer, HT panel and SCADA are on floating ferro cement platforms.
According to Naresh Anand, executive director ( Southern Region) of NTPC, with this fresh addition  the present commercially operational floating solar power capacities  in the southern region is about 217
MW.
The NTPC has already commenced  commercial operation of 92 MW capacity floating solar  Project at  the waterbody of its Rajiv Gandhi Combined Cycle Power Project (RGCCPP) at Kayamkulam  in the state of Kerala and  another 25 MW Floating Solar on the reservoir of its Simhadri thermal station in Visakhapatnam in the state of  Andhra Pradesh last year.
This effort of indigenously built floating solar project by BHEL is an effort of central government's constant  pursuit of the AtmaNirbhar Bharat Abhiyan and a major step towards India's constant pursuit of self reliance in the floating solar power technology sector, expert opined.
SAVE EARTH
The  benefits and the positive impacts of installing such floating solar power panels upon  abandoned  large water reservoirs are manyfold.
Setting up of coal fired thermal power plants and hydroelectric power plants requires displacements of dwellers who have been living on the area since long time and destruction of the local fauna and the flora.
But in floating solar power projects the impact of the environment is nil and no local dwellers are affected as it requires no land acquisitions.
Due to the presence of floating solar panels, the evaporation rates from the water bodies are vastly reduced mainly during the perched summer months, thus helping in long term water conservation.
As per NTPC, about 32.5 lakh cubic metres  per year of water evaporation will be stopped. To produce similar capacity of power from fossil fuel fired thermal power plants about 1,65,000 tonnes of coal
would have been required per annum and subsequent carbon dioxide emission  of two lakhs ten thousand tonnes every year have been avoided.
PRIVATE SECTOR ALSO GEARS UP
Tata Power Solar Systems, a wholly-owned subsidiary of Tata Power, has recently commissioned  India's largest floating solar power project in Kayamkulam, in the state of Kerala.
Set upon the  350-acre vast backwater in the God's Own Country it has an  installed capacity of 101.6 MW at peak periods.
Tata Power Solar has  successfully built a scaffolding platform on the  350 acre water body at Kayamkulam  to make the entire solar plant float on water.
WORLD'S LARGEST FLOATING SOLAR PROJECT
The Madhya Pradesh government has announced to set up the world's largest floating solar power project upon Omkareshwar Dam in Narmada River of about 600 MW.
The current world's largest operational  floating solar power project is about 320 MW at China.
The  Beijing-headquartered electric power company Huaneng Power International (HPI) has commissioned  the present  world's largest floating solar power  project in Dezhou, which is in Shandong, an eastern Chinese province on the Yellow Sea.