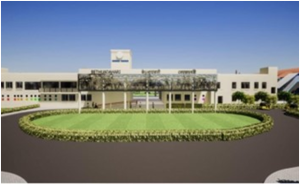 TTT NEWS NETWORK
KOLKATA, 9 SEPTEMBER 2023:
Bethuadahari Railway Station is on the Ranaghat–Krishnanagar City–Lalgola line of the Eastern Railway. Bethuadahari Wildlife Sanctuary in Bethuadahari popularly known as Bethuadahari Avayaranya is very important tourist spot of the state. The Wildlife Sanctuary is one of the most diverse areas near Kolkata. This place is around 24 km away from Krishnanagar and very close to Nabadwip town (birthplace of Chaitanya Mahaprabhu) and Mayapur Iskcon Temple.
In a ground-breaking initiative promising to reshape travel experiences and uplift local economies, redevelopment for this iconic Bethuadahari Railway Station of the Eastern Railway was kick-started under Amrit Bharat Scheme at a cost of Rs. 28.31 Crores. Crucially, environmental sustainability stands as a guiding principle in this endeavour. The reimagined station will incorporate energy- efficient lighting, waste management systems, and an overarching commitment to creating an eco-friendly environment that resonates with the modern ethos of responsible development.
This ambitious endeavour, carried out under the Amrit Bharat Station Scheme unveiled by Prime Minister Narendra Modi, marks a significant stride towards enhancing passenger amenities and fostering economic growth. Indian Railways' commitment to delivering cutting-edge facilities finds vivid expression in this visionary project, poised to set new standards for railway station excellence.
The impending metamorphosis of Bethuadahari Railway Station transcends mere renovation; it's an architectural revolution that seamlessly fuses contemporary design with the region's historical significance. The station's new facade will encapsulate a harmonious blend of form and function, a testament to modernity while honouring tradition. The entrance lobby is widened and an entrance portico is provided.
At the heart of this transformative venture lies an unwavering dedication to elevating passenger experiences. Anticipating the needs and comforts of travellers, the redevelopment plan envisions expansive waiting areas, meticulously designed interiors that captivate the eye, and waiting halls that exude both elegance and utility. The station's facade will be a canvas of improved aesthetics and lighting, leaving a lasting impression on all who traverse its corridors. Notably, a restaurant is provided at the first floor of the proposed building for both ticketed and non-ticketed persons allied facilities like, kitchen, toilet, store and pantry will also be provided.
The inclusion of 12meter wide Foot Over Bridge, 2 lifts and escalators underscores the project's commitment to accessibility. The redevelopment of Bethuadahari Railway Station extends beyond bricks and mortar. By allotting commercial space within the station premises, local businesses will find a dynamic platform to flourish. This synergy between the travel hub and marketplace not only enriches the station's landscape but also contributes significantly to the local economy, encapsulating the spirit of the Amrit Bharat Station Scheme.
The redevelopment of Bethuadahari Railway Station stands as a testament to India's unwavering march towards a future that blends modernity with tradition and underscores the centrality of human experiences in the nation's growth story.