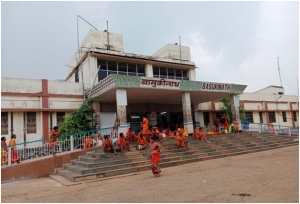 TTT NEWS NETWORK
KOLKATA, 22 AUGUST 2023:
Shravani Mela at Baidyanath Dham Temple of Deoghar is one of the principal attraction for the Lord Shiva devotees across the country. Countless pilgrims rushed to Deoghar area on this auspicious occasion and they prefer Railway route to reach there as safest & quickest mode of transport.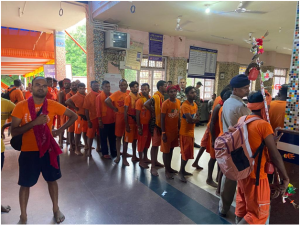 A quick census reveals that on the 19th day of Shravani Mela at Deoghar this year, on last Sunday a total of 36328 passengers purchased journey tickets from the stations around this famous pilgrimage i.e. Jasidih, Baidyanath Dham, Deoghar and Basukinath station. The total earnings from the window sale of Railway tickets at these stations amounts to ₹32,31,540/- at these stations on last Sunday. The cumulative figure upto19th day of Shravani Mela at Deoghar indicates a ticket sales figure of 634210 Nos. with total ticket sales earnings at the stations amounting to ₹5,09,14,450/-.
Railways made elaborate arrangements for the convenience of pilgrims like 'May I Help You Booth', adequate drinking water facility, extra booking counters, cleanliness & sanitisation at stations, additional shelters in the circulating area during the Shravani Mela. Eastern Railway officers & supervisors are also closely monitoring the comfort of the pilgrims at these stations.