BY  CHEF DEBDUTTA BANERJEE,
EXECUTIVE CHEF,
ITC FORTUNE PARK PUSHPANJALI, DURGAPUR
INGREDIENTS
| | |
| --- | --- |
| BASE RECIPE -1 | COOKIES |
| BUTTER | 100 gm |
| FLOUR | 150 gm |
| ICING SUGAR | 70 gm |
| | |
| --- | --- |
| BASE RECIPE – 2 | CHEESE CAKE |
| BUTTER | 200 gm |
| COOKING CREAM | 250 gm |
| CREAM CHEESE | 250 gm |
| MANGO CRUSH | 50 gm |
| VANILLA ESSENCE | 10 gm |
| WHIP CREAM | 200 gm |
| GELATIN | 10 gm |
| ICING SUGAR | 70 gm |
METHOD:
1. Prepare cheesecake base: Place graham crackers in the bowl of a food processor. Process until they are almost fine crumbs. Add dark brown sugar and butter. Process until the mixture clumps together like damp sand. Press mixture evenly into bottom of a 9-inch springform pan and refrigerate while preparing filling.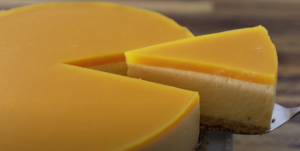 2. Prepare filling: Heat oven to 325 degrees. Bring a kettle of water to boil. Peel and cut flesh from mangoes and purée in a food processor until smooth. Add cream cheese and process until smooth. Add superfine sugar, and with motor running, add eggs one at a time through the processor's feed tube. Add lime juice, and process until blended.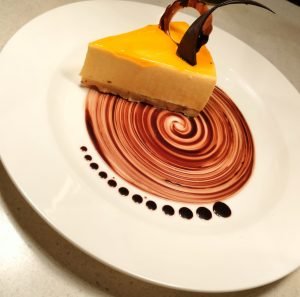 3. Place springform pan on a double layer of strong foil. Crimp edges up around pan to make waterproof nest. Place foil-covered pan in a deep roasting pan Scrape filling into pan and pour boiling water into roasting pan to come about halfway up sides of cake pan.
4. Bake until filling is set and wobbles slightly in the center (it will continue to cook as it cools), about 1 hour and 45 minutes. Remove the springform pan from the water bath. Discard foil and place the pan on a cooling rack. When cool refrigerate overnight. To serve, remove from pan and place on a serving platter before slicing.