BY TTT NEWS NETWORK
KOLKATA, 11 MARCH 2023:
Iisco Steel Plant (ISP) of Steel Authority of India Limited (SAIL) in Burnpur has successfully conducted the first trial production of fire resistant steel structural .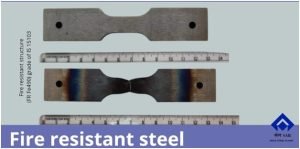 The fire resistant steel structural developed to safeguard buildings on fire by Iisco Steel Plant.
Those who look at high rise buildings in fear that a fire outbreak may turn into inferno and devastate their world can now breathe a sigh of relief.
A fire resistant structural as per Indian Standard  IS 15103  has been now developed successfully after months of meticulous research and testing.
" Adding Chromium (Cr) and  Molybdenum (Mo) to impart higher strength at elevated temperature, the steel was cast into beams blanks in Caster number 3 with stringent quality control and rolled as NPB400 section at Universal Section Mill under controlled conditions to
achieve the desired properties," informed CGM ( Quality), Arunava Sengupta.
" Samples tested under simulated conditions could retain more than two – third of its  rooms temperature yield strength even at a temperature of 600 degree centigrade," said ED ( Works) of ISP, Shibasis Basu.
" Developed by our laboratory with Steel Melting Shop and USM, this product will help in building resilient infrastructure across the country," said Director In Charge of Iisco Steel Plant  and Durgapur Steel Plant, Brijendra Pratap Singh.
ISP is now waiting for bulk orders for commercial productions.
Even noncombustible materials such as steel can be affected by high temperatures. However, because structural elements are not usually loaded to their full design strength, even bare steel may have sufficient load-carrying capacity to withstand the effects of fire.
In general, structural steel retains 60% of its ambient temperature yield strength at 1,000 °F–and most building fires exceed that temperature at some point.
Steel is a durable, noncombustible, fire-resistant material.  When properly designed and constructed, steel framing can preserve its structural integrity in the event of a fire and exposure to prolonged elevated temperatures. The International Building Code (IBC) and other current building codes contain prescriptive criteria for determining when and what requirements apply for the various types of construction, heights, areas and occupancies.
Structural steel can withstand approximately 425°C before it begins to soften. Between 600°C and 650°C, the steel will lose half of its strength, and will pose a risk of failing (depending on the load it bears).
Unsurprisingly, even a house fire will reach very high temperatures of around 600°C or just under. Of course, it depends on what the material being combusted is. A simple candle will often burn at 600°C or more, whilst propane can cause a fire to reach almost 2000°C.
Throughout the world people now a days prefer a condominium living in high rises due to space constraints in the majority of the cities.
People still have a  vivid memories of the live footage of the dramatic and sudden collapse of the  iconic twin towers of World Trade Centre in New York in a terrorist attack on 11 September 2011.
The hijacked aircrafts hit the towers and  massive fire broke out and thus the metallic structures melted due to tremendous heat generated leading to the ultimate collapse of the buildings within minutes.