BY TTT NEWS SERVICE
DURGAPUR, 11 JULY
The Roor, the restaurant of Peerless Inn Hotel in  City Centre at Durgapur organises Seafood festival from 15 July to 31 st July, said Shantanu Ranjan Pal, General Manager.
The festival named something fishy offers cuisines like sea food rasam, tandoori pudina pomfret, prawn sesame toast, prawn pollichathu, goan crab curry,mussels with lemon grass, curried scallops, snails cooked in Indian masalas, bihari pomfret fry, shrimp custard to woo the food connoisseur from every part of the country.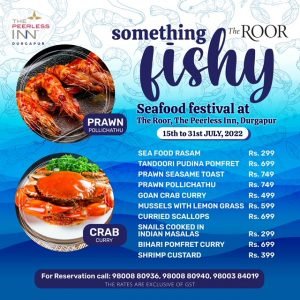 The dishes range between Rs.299 to Rs.749.
For reservation call – 9800880936,9800880940,9800384019.
The seafood festival offers fish, crab, mussels  and prawn to its customers.