DEBAJYOTI CHAKRABORTY
KOLKATA, 12 JULY 2022
After a hiatus of  four years, the Travel Agents Federation of India (TAFI) will be hosting its annual convention from 20 to 23rd September at Borneo Convention Centre at Kuching City in Sarawak province of Malaysia.
This will be the 13 th edition of Annual Convention of TAFI since it began in 1998 and the first since post covid -19 pandemic outbreak. The last annual convention was held at Emirates Palace Hotel at  Abu Dhabi in United Arab Emirates (UAE) in 2018.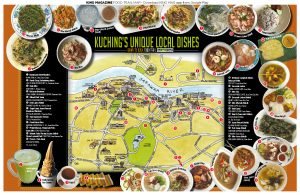 This will be the third time that 'Magical Malaysia' will be hosting the annual convention of  TAFI. Kualalumpur hosted in 1999 and Kota Kinabalu in 2007.
The theme of this year's convention is Build Back Better.
"As we seek recovery post-COVID, it is vital that the tourism industry does not forget the lessons of the Pandemic. As one of the biggest Global Industries, the power of Tourism to shape the world is phenomenal. It can be a powerful force for doing good, not only for the stakeholders but for the entire world. 'Build Back Better' encapsulates the resolve to rebuild Tourism in a more responsible and sustainable manner,"says Ajay Prakash, President of TAFI.
Chairman of the Convention Committee, Serraj Sabharwal said that , "Sarawak is a relatively unexplored Destination for the Indian Traveller. Sarawak is an excellent destination for Family Travel, Honeymooners, MICE, Weddings and the Film Industry. TAFI has often organized conventions in Unique and Unusual locations to expand the portfolio of travel agents and tour operators of India." Sarawak is the largest province of Malaysia.
Talking to The Travel and Tourism Times, Anil Punjabi, Chairman ( east) of Travel Agents Federation of India (TAFI) said that about 50 delegates are expected to participate in the annual convention at Malaysia from eastern India.
" This convention will help us to rebuild our tie ups with agents, airlines, the entire tourism and aviation industry. Sewak is an exotic destination and this will help us to sell from India," Anil Punjabi added.
The TAFI Convention is supported by Tourism Malaysia, Sarawak Tourism Board, Business Events Sarawak, Malaysia Airlines, Malindo (now rechristened Batik) and Air Asia. The Convention package will be inclusive of a 3 Nights Pre or Post Convention Tours to beautiful places within Malaysia. About 800 delegates and their families are likely to attend the annual convention of TAFI this year.


TAFI with a membership of more than 1400 tour operators and travel agents account for approximately 70% of all outbound travel from India.
ABOUT SARAWAK:
Revealing a side of Asia unlike anywhere else, Sarawak offers an alternative for those seeking humble authenticity far from the tourist-trap clichés.  Visiting Sarawak can be done as a complementary trip to Peninsular Malaysia and neighbouring countries, or a journey discovery all on its own. To discover Sarawak means taking the road less travelled.
Whether it is sharing the lifestyle of one of the many indigenous communities' longhouses, exploring gigantic caves in the UNESCO World Heritage of Gunung Mulu National Park, you will find Sarawak offers a host of memorable experiences to bring home to.
Connect with your inner-self; kayak along our boutique rivers, run your personal best marathon or hike the many jungle trails of Sarawak's diverse national parks.
From participating in a volunteer programme to learning how to cook Sarawakian dishes, from making new friends at major festivals and events to seeing orangutans up close, Sarawak is a prime destination for the intrepid traveler in you.
As part of Malaysia on the island of Borneo, Sarawak is a peaceful and stable place for travel, suited for large groups or single travelers alike.