BY TTT NEWS NETWORK
ASANSOL, 3 NOVEMBER 2022
Asansol MP, Shatrughan Sinha will act in his comedy drama, 'Pati, Patni aur Main' at Ravindra Bhawan in Asansol here this evening and at Durgapur tomorrow.
There will be no entry fee to watch this comedy drama. Law, judiciary and labour minister Moloy Ghatak will also be present  along with his wife, Sudeshna Ghatak to watch both the shows.
Though his drama show has been staged at several places throughout the country  earlier, for the first time it will be held in the state of West Bengal.
Two previous Prime Ministers, Atal Behari Vajpayee and Dr. Manmohan Singh have witnessed this comedy drama as  spectators.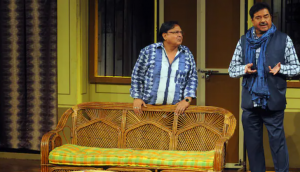 Even he had spectators like politicians  Sushma Swaraj, Lal Krishna Advani, Nitish Kumar, Laloo Prasad Yadav, Arvind Kejriwal  and even his best friend Amitabh Bachchan to witness his state shows. In 2015, Shatrughan Sinha returned to acting with his stage shows after 14 years.
The sitting Asansol MP  has acted with Big B  in hit movies like "Dostana", "Kala Pathar ", "Shaan" and "Bombay to Goa ".  Speaking to media persons after the end of the play on that day , Bollywood's Sahensah  Amitabh Bachchan,  hailed Bollywood's  Mr. Khamosh's performance and said, "I could not have performed so well in the play."
The duo , who became friends during their acting  days in Bollywood, after belting many films fell apart and did not come together on silver screen after "Dostana"
The drama has been produced  by National Centre for Performing Arts and written by Ramesh Talwar.
The other actors are Rakesh Bedi, Dimple Danda, Sanjay Ghoradia etc.
" You please bring your wife along with you and just enjoy the family
drama," Shatrughan Sinha has urged the common people .
780 people will witness the first  stage show today at Rabindra Bhawan  and the auditorium has been provided by the Asansol Municipal Corporation (AMC).
In 1978, the  first Bollywood  family comedy movie, starring Sanjiv Kumar named Pati, Patni aur Woh was released and it was a hit. In 2019, another film, Pati, patni aur Woh was released and Kartik Aryan starred in the film.
The Bengal connections of Bollywood's Mr. Khamosh started  from studying acting under the celluloid genius Ritwick Ghatak, who was at that time the Vice Principal of Film and Television Institute  of India (FTII)  in Pune to acting in his lone bengali feature film in  Goutam Ghosh's Antarjali Jatra.
His most famous movie was the Kala Patthar, a film based on the Chasnala Colliery Disaster of IISCO along with Amitabh Bachchan, Sashi Kapoor etc.