BY TTT NEWS SERVICE
14 NOVEMBER 2022
One of the most popular  romantic songs ever made in the film industry of Bollywood is 'Mere Sapno Ki Rani' of the film Aradhana, with Kishore Kumar lending  his golden voice in the playback of the song to the hero, Rajesh Khanna, who was travelling in an open  jeep besides the track and his ladylove Sharmila Tagore was riding the world famous Darjeeling Toy Train, the setting was idyllic.
Not only the masterpiece Aradhana but  sequences of many popular films like  Parineeta, Raju Ban Gaya Gentleman etc  have also featured the famous Toy Train ride of Darjeeling. These famous films have immortalised the toy train rides against the picturesque and breathtaking backdrops amongst the visitors and tourists from  all over the globe who come here.
Director of Darjeeling Himalayan Railway, Priyanshu has informed that for the first time the joy ride of the toy train will take place on every  Saturday and Sunday nights    between Ghoom and Darjeeling Station as part of the Ghoom  Winter Festival.  The weekends attract more tourists.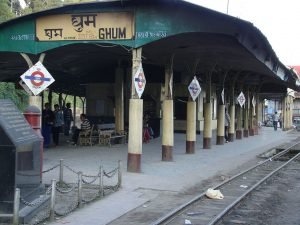 At present ten joy rides are run by the DHR in Darjeeling – Ghoom – Darjeeling routes. It is an UNESCO World Heritage Site.
The toy train will  depart Darjeeling at 6 o'clock and  will stop at Batasia Loop for about fifteen minutes. Once the train reaches its destination (Ghoom station), it will stop for 25 minutes before returning back  to Darjeeling. The total joy ride timing is one hour fifty minutes.
From 9.20 AM to 3.45 PM the toy trains ply on the routes normally throughout the year.
The sleepy and picturesque hill town of Ghoom is located about nine kilometres away from Darjeeling and is situated about 7300 feet above the sea level. The  famous Ghoom Monastery is located here.
This is the second year of the Ghoom Winter Festival and besides foods, cultural functions, there will be a programme of live concerts, talent hunts etc.
This year the theme of the three week long  Ghoom Winter Festival is Ghoom Barabar Ghoom, according to the DRM of Katihar Division, Colonel Shubhendu Kumar Choudhury.
The Ghoom Winter Festival started in 2021 under the aegis of Darjeeling Himalayan Railways. The Darjeeling Himalayan railways started its journey in 1881.