BY TTT NEWS NETWORK
KOLKATA, 6 MARCH 2023:
Principal Secretary of the state tourism department, Nandini Chakraborty  will receive the Best Cultural Destination Award at ITB Berlin 2023.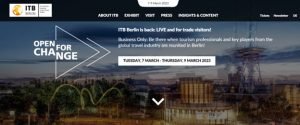 Pacific Asia Travel Writers Association (PATWA) has selected West Bengal for this prestigious award.
The ITB Berlin 2023 will be held from 7 to 9 March.
Besides, Nandini Chakraborty, P.B.Salim , secretary of programmeee monitoring department with additional charge of secratry in CMO, along with few members of tour operators will be present in the show.
Bengal will be projected as a prime tourists destination to the world in ITB Berlin 2023 and its various tourst attractions will be showcased.
Earlier the Durga Puja of the state has received the Unesco World Intangible Heritage of Culture and Humanity tag in 2021 and then has received the prestigious  PATWA  award.
These will give a big boost to the growth of tourism in the state as the state tourism department is eyeing the tourists from abroad.
About ITB Berlin and the ITB Berlin Convention-
Since 1966, ITB Berlin has been the World's Leading Travel Trade Show. The ITB Berlin convention is the world's largest travel industry event of its kind. In 2022 it took place as a virtual event on the brand's website itb.com and registered 60,700 attendees from 125 countries who took part in more than 100 sessions featuring 223 speakers. Taking place on one day, the Digital Business Day gave 2,500 attendees from 96 countries an opportunity to exchange views and do business virtually from anywhere in the world. International attendance was high, with 78 per cent of buyers and providers taking part from abroad. A total of 20,000 business contacts were made, resulting in 14,000 leads and 3,200 business meetings being arranged.

ABOUT PATWA-
The Pacific Area Travel Writers Association (PATWA) is a professional organisation of travel writers which was founded in 1998.
PATWA's founding philosophy is to support sustainable development, growth and development of worldwide travel, tourism, hospitality and aviation.
PATWA works with both the public and private sectors to support sustainable growth and improve the quality of travel and tourism.
PATWA adheres to the fundamental principles of the United Nations Educational, Scientific and Cultural Organization (UNESCO), the United Nations (UN) and the World Tourism Organization (UNWTO).
PATWA is an affiliate member of the United Nations World Tourism Organisation (UNWTO)