BY TTT NEWS SERVICE
JAIPUR, 29 OCTOBER 2022
The 369 feet tall statue of Lord Shiva, Viswas Swaroopam ( Statue of Belief)  believed to be the tallest in the world, was unveiled today at Nathdwara town in Rajasthan today. The chief minister of Rajasthan, Ashok Gehlot was present during the occasion. The statue has been set up by Tat Padam Sansthan. Spiritual leader Morari Bapu of Gujarat inaugurated the statue.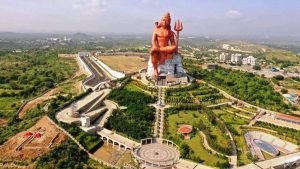 There will be nine days of spiritual and cultural functions after the inauguration today ( from 29 October to 6 November).
" This wonderful statue of Lord Shiva at the city of Shreenathji will give a new dimension to religious tourism in the state of Rajasthan now,"said Madan Paliwal, Sansthan Trustee and Chairman of Miraj Group.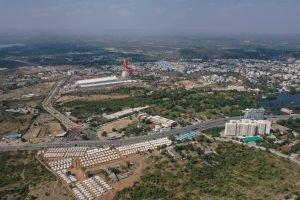 The state can be visible from about twenty kilometres away. It is installed on 51 bighas of land at the hill top  in Ganesh Tekri and is about 45 kilometres away from the city of Udaipur.
With special illuminations it will also be visible at night.
There are lifts, stairs and a hall for the devotees. In Fact there are three lifts and four stairs to go inside. It took ten years to complete the statue. About 10,000 people can be accommodated in the hall inside.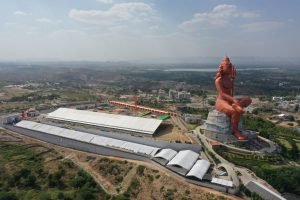 It is coated with zinc and alloy from protection of sunrays and rainfall. The state is copper coloured. The design of the statue has been done in Australia and it can withstand a wind speed upto 250 miles per hour.
To further attract the tourists, a host of side activities has been arranged like bungee jumping, zip line, Go- Kart, adventure park, food court, and a special jungle cafe.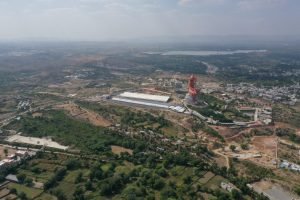 The top five tallest Shiva statues in the world at present  are: Vishwas Swaroopam, Rajasthan – 369 feet, Kailashnath Mahadev Temple, Nepal – 143 meters, Murudeshwara Temple, Karnataka – 123 metres, Adiyoga Temple, Tamil Nadu – 112 metres, Mangal Mahadev, Mauritius – 108 metres.
The Rajasthan Tourism Department is planning to make the Nathdwara Town its latest tourism hotspot with a host of activities and facilities.
The foundation stone of the project was laid by the then CM Ashok Gehlot in 2012.
The majestic statue of Lord Shiva in Nathdwara, also known as the 'Statue of Belief', will mesmerise you every time you see it. 📸: Vishnu Gaur #shiva #statueofbelief #mesmerise #nathdwara #explorerajasthan #travelrajasthan #padharomharedes #rajasthantourism #rajasthan pic.twitter.com/y1gqzDrxWB

— Rajasthan Tourism (@my_rajasthan) October 4, 2022