BY DEBAJYOTI CHAKRABORTY
SHILLONG, 20 JULY 2022
" Loveliest of trees the cherry now is hung with bloom along the bough".
——- A.E.Housman.
The Shillong Cherry Blossom festival is the most colourful festival of Meghalaya, literally the land of the clouds, and the only Cherry Blossom festival in the world which is  observed in autumn.
The picturesque hill town  of Shillong is draped in pink and white coloured petals, the cherry blossoms are in  full bloom in November along the roadsides and the famous Ward's Lake.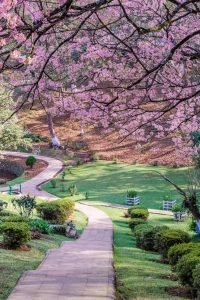 About one lakh people are expected to visit Shillong during the 5th edition of the  India International Cherry Blossom Festival from 14 to 17 November 2022, which is sheduled to be hosted in this capitacl city in November this year. It is  held at various venues, namely Polo 5th Ground, State Convention Center, Golf Course, JN Stadium, and Indoor Stadium Polo stadium etc .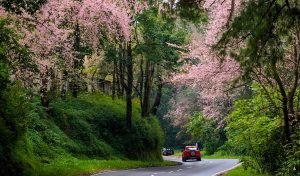 The World's most famous Cherry Blossom Festival is organised in Japan. In many other countries also  like New Zealand, South Korea etc cherry blossom festivals are held. But the uniqueness of Shillong's Himalayan Cherry Blossom Festival is that it is the only Cherry Blossom festival  in the world which is celebrated in autumn.
The four day festival is held at the Polo Grounds and Ward's Lake in Shillong during the month of November every year. The Chief minister of Meghalaya inaugurates the Cherry Blossom Festival.
Besides cultural events, literature festivals, sports, fair, food festival, fashion, rock shows, automobile shows, golf tournaments etc also takes place during the Cherry Blossom Festival.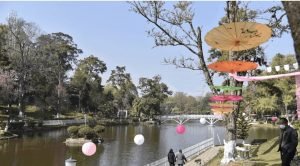 The state of Meghalaya is famous for its biodiversity , hosting 5538 species of fauna and 3128 species of flowering plants, about 18 percent of India's flowers. Cherry Blossom festival showcases food, wine, crafts , cuisines of the region and indigenous games of Meghalaya.
The Himalayan cherry blossoms create a vibrant riot of colors, livening up parts of the Eastern Khasi hills. The state of Meghalaya has a festival on the theme. The destination has a lot more to offer to discerning travelers. Shillong is  an Indian city with more than just cherry blossoms. With the beginning of winter, bunches of cherry blossoms bloom across the Khasi hills of northeastern India that remind you spring is absolutely at the corner.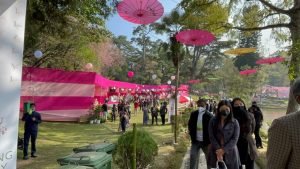 November messes up the  hair with the cold wind here. It is a time when Meghalaya, with its beautiful pink flowers, looks enchanting like never before and beckons tourists . The Himalayan cherry blossoms turns the eastern Khasi hills, and the state capital Shillong pink such that the autumn version begins in India. The place becomes a cherry blossom wonderland during November.
This event started in 2016. It is organized annually by the Government of Meghalaya and has a wealth of live music and events, such as dance competitions, pageants, and various kiosks dedicated to representing their area through cuisine, wine, arts, and crafts. One can also watch musical performances, bicycle rallies, and storytelling sessions at the event. To enjoy seasonal flowering and leisure, Shillong has been organizing this festival with full gusto and enthusiasm, attracting many tourists to see this visual extravaganza. People look forward to participating in the annual Shillong Cherry Blossom Festival, recognized as one of the state's most vibrant and colorful festivals.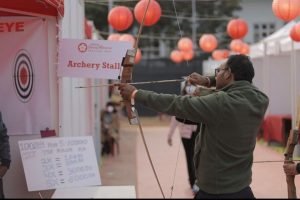 To celebrate the unique autumn flowers of the Himalayan cherry blossoms and various other cultural events, the Cherry Blossom Festival is held every year in November. It includes many activities such as stalls representing their region through live music and dance competitions, pageants, cuisine, wine, arts and crafts. The three-day festival will feature fashion shows, songs, dances, and several exciting competitions. However, with the epidemic, people have decided to enjoy the scenery from the security of their homes. The buds begin to appear in late October, and the northeastern city begins to bloom in the first half of November.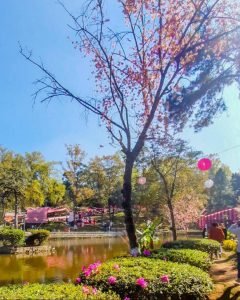 During the autumn season, when the kingdom is bursting with flowers of many colours, the soft pink bursts of cherry blossoms brighten everything else and dominate the autumn scene. They are everywhere, drawing our attention to the beauty of nature.
History Of Cherry Blossom Festival
The Cherry Blossom Festival started to be celebrated in Shillong to display the beauty of the Himalayan cherry blossom ether and various other cultural events. These natural beauties are considered a gift from the Himalayas and also a sign of good luck. They usually grow across the eastern and western Khasi hills.
In India, cherry blossom or prunus ciraside is also known as wild Himalayan cherry and sour cherry, also known as Padam, pajja, or Padma Latha in Hindi. It is considered sacred by the Hindus of Himachal Pradesh and Uttarakhand and is associated with Vishnu and Shiva. The petals are used to make wreaths from wild citrus fruits and are placed on the prayer altar during Maha Shivaratri. Petals are also used as
incense.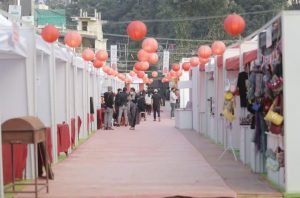 In Buddhism, cherry blossom refers to the transient nature of life. Since the cherry tree blooms for a week or two, they symbolize the fragile essence of existence. The cherry blossoms are beautiful and
vibrant, much like life, yet fleeting. The attraction of the young lady has been associated with flowers.
The cherry blossom of the Rosaceae family, also known as Prunus cerasoides, is called Dyingling in Khasi. This deciduous, medium hardwood can grow up to 1200-2400 m in height and up to 30 m in
height. One of the most versatile trees in the Himalayan range, it also grows as a structure tree for restoring evergreen forests in arid tropical lands.
The opening ceremony of the first edition of the International  Cherry Blossom Festival, Shillong, was held on 14th November 2016 at Polo Ground.
HIGHLIGHTS OF  SHILLONG CHERRY BLOSSOM FESTIVAL
Entertainments Galore : The festival features live music gigs, a beauty contest, and stalls displaying local cuisine, wine, art, and crafts.
Lip-smacking Delicacies:  Travelers can enjoy the illuminated cherry blossoms and excellent dining at Wards Lake. Some of the most amazing dishes are served at the festival to give visitors a taste of local
cuisines.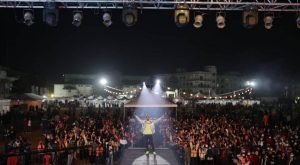 Rock Concert: In addition, a rock concert with unplugged Western music and dance performances from all over Northeast India make people groove on foot-tapping music. The event will also feature choir
performances, bicycle rallies, and storytelling sessions.
Unparalleled Beauty:  Meghalaya starts looking like a painting with beautiful shades of pink and purple right from the start of the annual Cherry Blossom Festival. During this time, the hills of Shillong blossomed with pink flowers, as if its panoramic landscape was painted in rhythmic colours. In Shillong, the festival is held at various venues, namely Polo 5th Ground, Golf Course, Ward's Lake, State Convention Center, JN Stadium, and Indoor Stadium Polo.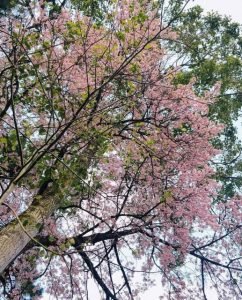 Boat Trip: The biggest way to see the delicate flowers is to take a boat trip to Wards Lake. Wards Lake, one of Shillong's most fascinating attractions, offers beautiful wooden bridges, verdant slopes, and sculptured gardens. It has turned out to be one of the most popular recreational destinations for residents and visitors alike.
A Visit to Polo Ground: Shillong can claim the Polo Ground, one of the greatest sports stadiums in India, where the Cherry Blossom Festival is held in the second half.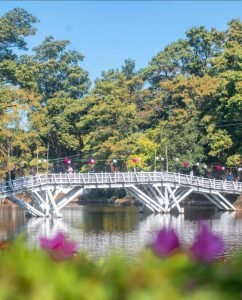 A Trip to Shillong Golf Course: Another great place to see cherry blossoms in Shillong is Shillong Golf Course. Located in the heart of the city, this 18-hole golf course is within the pine trees' boundaries, a favorite destination for leisure. Mountaineering and walking in the beautiful, serene, verdant  meadows are popular here. Visitors can even bring their golf clubs to play in amateur golf events held as part of the festival.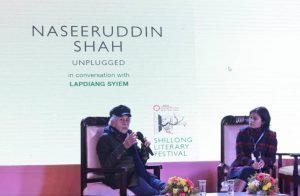 If you have never experienced cherry blossoms in full bloom, this is a great time of year to see them and take part in the fun festival. Start a magical road trip in and around Shillong during this time. This is the best way to experience the festival and its vibrancy.
How To Reach Cherry Blossoms Festival, Shillong
Shillong in Meghalaya is a beautiful destination, known for its amazing natural attractions, different events, festivals, culture, heritage, and more. The place can be accessed using diverse means of transport. Since many tourists visit Shillong, diverse transportation options are available to make the journey pleasant and hassle-free.
Nearest Major City:  Shillong
Nearest Airport: Umroi Airport near Barapani.
Nearest Railbase:  Guwahati Railway Station
Distance from Shillong Airport: 30 Km
By Air
Shillong doesn't have an airport. Hence Umroi Airport near Barapani serves as the nearest airport to this beautiful city. There are regular flights from prominent Indian cities like Delhi, Mumbai, Chennai, Kolkata, Bangalore, etc. After deboarding, passengers can hire a taxi from outside the airport for onward journeys to the venue of Cherry Blossoms Festival.
Distance from Umroi Airport-  30.7 km
By Train
You can reach Shillong through direct trains to Guwahati Railway Station in the NorthEast Frontier Zone. However, it is connected through limited train service.
Distance from Guwahati Railway Station-  96.3 km
By Road
Shillong is well connected through state and national highways. Several Meghalaya Transport Corporation and Assam State Transport Corporation buses are available between the two cities. You can board private buses or hire private cabs or taxis. You can also consider reaching Shillong by car.
Distance from Tura-  306.4 km
Distance from Guwahati- 99.7 km
Distance from Hajo-  128 km
Distance from Morigaon- 138.5 km
Distance from Kolkata- 1127.6 km
Distance from Mumbai-  2842 km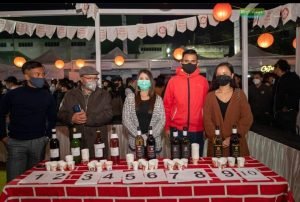 ACCOMODATIONS
There are sufficient three/ four star category and budget hotels in Shillong. Each hotel has an average 40 to 50 rooms.