BY  CHEF DEBDUTTA BANERJEE,
EXECUTIVE CHEF,
ITC FORTUNE PARK PUSHPANJALI, DURGAPUR
RECIPE NAME: MURGH MALAI TIKKA
SERVING PORTION: 240 GMS
BASE USED : CHICKEN,
INDICATOR: CREAM
RECIPE VARIANTS :
ACCOMPANIMENTS : MINT CHUTNEY/LACHHA ONION / LEMON WEDGES
GARNISHES:
ASSEMBLY
WEIGHT
MEASURE
TOTAL YIELD:
2400
GMS
NUMBER OF PORTIONS :
10
BASE RECIPE 1
INGREDIENTS
WEIGHT
MEASURE
Chicken leg boneless
2000
Gms
egg
125
Gms
green chili Chopped
50
Gms
White Pepper powder
25
Gms
Cream
125
Gms
Ginger Garlic Paste
50
Gms
Greated Cheese
100
Gms
Lemon Juice
10
Gms
Butter
125
Gms
Nutmeg powder
3
Gms
Chopped Corriander Leave
25
Gms
curd
2000
Gms
Cardomom Powder
5
Gms
Garam Masala
10
Gms
Cashew Nut Paste
60
Gms
Chaat Masala
10
Gms
TOTAL YIELD
4723
Gms
NUMBER OF PORTIONS
10
Method
To begin making the Murgh Malai Kebab Recipe, prep all the ingredients for the marinade and keep it ready. Wash and pat dry the chicken too and set aside.
Make a paste of the ginger, garlic and green chillies. You could optionally add 2 tablespoons of water to blend into a paste. To marinate the chicken, in a large mixing bowl, combine the fresh cream, hung curd, cream cheese, salt, ginger garlic and green chilli paste, garam masala powder, cardamom powder, nutmeg powder, white pepper powder, lemon juice, corn flour and kasuri methi. Mix well.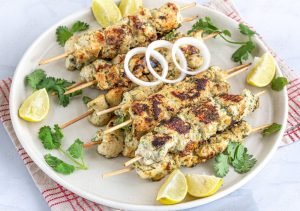 Add in the boneless chicken cubes and mix well until the chicken is evenly coated. Cover the bowl and set aside the Murgh Malai Kebab to marinate for a minimum of 3 hours. You can also refrigerate it for a longer time.
To bake in the oven, preheat the oven to 200 degree celsius for 10 minutes. Line a baking tray with aluminium foil, grease generously with oil.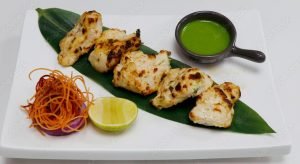 Arrange the Murgh Malai Kebab in skewers, place them on the baking tray and bake for 10 minutes.
After 10 minutes, baste the Murgh Malai Kebab with butter and remaining marinade if any. Flip and bake for another 10-15 minutes or until done.
Remove from the oven when almost done. Turn on the flame on your gas stove, hold the skewers over the flame, for a slightly roasted and smoked flavour and colour.
Serve hot Murgh Malai Kebab Recipe with Mint Chutney Recipe Dip and Lacha Onion