BY DEBAJYOTI CHAKRABORTY
KOLKATA, 19 AUGUST 2022
The Travel Agents Association of India (TAAI) is going to hold its 66th Cruising Convention in Singapore from 22 to 25 August.
A large number of delegations of TAAI including its national  and regional committee members are going to participate in the convention.
Jyoti Mayal, President of Travel Agents Association of India has informed that  the association's strength is in facilitating business-to-business and people-to-people contacts to support its members.
"TAAI is  inviting  its members to embark on a journey to rebuild the network and relationships post pandemic and  the close proximity of Singapore and the opportunity to promote regional tourism is the need of the hour to strengthen bi-lateral relations, develop trade, investments and tourism, to experience the serene beauty of destinations like Singapore and Penang, Malaysia," Jyoti Mayal said.
"The  three day Singapore Cruising Convention will be a lifetime experience. The Cruise-to-Cruise experience will begin and end in Singapore. We have roped in the Royal Caribbean International and shall be boarding the 'Spectrum of the Seas. The largest, best, and newest Cruise ship in the world, 'Spectrum of the Seas' offers great food, warm hospitality, and various other unique experiences," claims
Jay Bhatia,  Vice President of Travel Agents Association of India.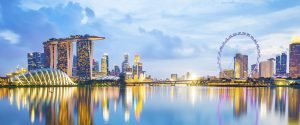 "It is an ideal opportunity  for  looking forward to learning, networking, exploring, and connecting to situations and people beyond their current, and they should not  miss out on exciting and momentous opportunities," said  Bettaiah Lokesh, honorary  Secretary General of TAAI.
Shreeram Patel, honorary treasurer of TAAI said that the Singapore Cruise is members restricted however the organisation will try to accommodate the maximum number of its members who are keen to
participate.
Talking to The Travel and Tourism Times, Manav Soni, Chairman ( east) of Travel Agents Association of India said that many members of eastern india are participating in the upcoming Cruising Convention at Singapore .
"  It is a wonderful opportunity to network amongst our trade associates and partners. What better place can it be than a cruise. The entire Managing Committee led by our President Jyoti Mayal has/ is making sure that each and every delegate has a memorable experience. For some it could be repetitive but Cruising is always fun. TAAI has organised Spectrum of the Seas, one of the Jewels of  Royal Caribbean Cruises," Manav Soni added.
"As you all are aware that TAAI's strength is in facilitating business to business and people to people contacts to support its members. And, therefore, we are inviting you to embark on a journey with us to rebuild the network and relationships post pandemic.
The feeling of once again travelling internationally, post covid, is adrenaline flowing in your veins," is the  TAAI message to its members.
The TRAVEL AGENTS ASSOCIATION OF INDIA (TAAI) was formed towards the end of the year 1951 by a group of twelve leading travel agents, who felt the time had come to create an Association to regulate the travel industry in India along organized lines and in accordance with sound business principles.
The primary purpose was to protect the interests of those engaged in the industry, to promote its orderly growth and development and to safeguard the travelling public from exploitation by unscrupulous and unreliable operators.
In the following years, the Association's membership has swelled steadily from the original 12 to approximately 2500 members consisting of Active, Associate, Allied, Government and Non-Resident.
In the first six months of this year about 2.19 lakhs Indians visited Singapore mainly tourists , which is only second after Indonesia. This year Singapore  expects about 4 million tourists from all over the world, according to G.B.Srithar, Regional Director ( India, Middle east, South Asia and Africa) of Singapore Tourism Board.
In 2019, before the outbreak of the pandemic about 1.41 million Indians visited Singapore , out of which 1.50,000 people travelled exclusively on cruises.
The country has become  a top and favourite family  foreign destination for Indians tourists.