BY TTT NEWS NETWORK
NEW DELHI, 3 MARCH 2023:
Spreading wings to further expand its global reach, Air India, India's flagship airline and a Star Alliance member, resumed its non-stop service on the Delhi-CopenhagenDelhi sector from 1st March, 2023.
Air India Flight AI157 now operates on Wednesdays, Fridays, and Sundays from Delhi, taking off at 1330 Hrs and arriving in Copenhagen at 1750 Hrs (local time). The CPH-DEL flight AI158 will depart at 1950 Hrs (local time) and arrive in Delhi at 0740 Hrs, next day (local time). The flight will be operated by Air India's state-of-the-art Boeing 787-8 Dreamliner aircraft, featuring a two-class cabin configuration, comprising 18 Business Class and 236 Economy Class seats. With this service, Air India's India-Europe frequency has increased to 79 non-stop flights per week.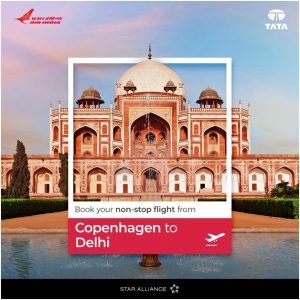 Recommencing after a hiatus of almost three years, since global flight operations were restricted due to the outbreak of the pandemic, this service will further strengthen Air India's foothold in Europe, after the recently resumed flights to Vienna and Milan. Passengers can now conveniently fly non-stop to Copenhagen, a popular tourism and business centre and an educational hub of Europe. It is one of the most alluring Scandinavian destinations, known for its scenic beauty, architecture, and cultural history.
This service will provide Indian travellers with convenient access to not only Copenhagen but also to several popular destinations around Copenhagen, including Denmark, Sweden, Norway and Finland Besides catering to the demand of the corporate travellers, the student community and the Indian diaspora in general will benefit from this service.
Mr Nipun Aggarwal, Chief Commercial and Transformation Officer, Air India, said, "A key element of Air India's Vihaan.AI transformation is considerably improving connectivity between India's major cities and major global destinations. Resuming this non-stop service from Delhi to Copenhagen, following the relaunch of the flights between Delhi and Vienna, affirms our commitment to develop a major international hub in India's capital."
Earlier, at a simple ceremony to mark the resumption of the flight, Mr Rajesh Dogra, Chief Customer Experience & Global Head, Ground Handling, Air India, lit the ceremonial lamp and cut the ribbon at IGI Airport, Delhi, on March 1, 2023, along with senior officials from GMR and AISATS. A specially curated menu was also offered to guests on this flight which went full.
AI 157 was accorded a warm welcome at the Copenhagen airport with dignitaries from the Indian Embassy passengers and local trade partners and Corporates gracing the occasion organised at the airport to commemorate the event. The return flight AI 158 landed back at Delhi this morning with 242 passengers.