DEBAJYOTI CHAKRABORTY
KOLKATA, 25 JULY 2022
In a significant development ,  three sites from India have recently found a place in  the United Nations Educational Scientific Cultural Organisation (UNESCO)  Tentative List on World Heritage Sites (WHS) in February 2022.
According to UNESCO standard operational procedure, each site must be placed on the Tentative list for one year before being evaluated for formal designation as a World Heritage Site.
This listing of the WHS is the first step towards recognition as a world heritage site. Till date 49 sites from India have found a place on this tentative list.
The three new UNESCO- WHS are  are the  Geoglyphs of Konkan region in Maharashtra, Meghalaya's JingKieng Jri- a living root bridge, and Lepakshi Nandi and  Sri Veerabhadra Temple and Monolithic Bull (Nandi) in  Andhra Pradesh.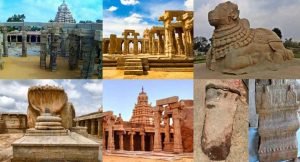 Geoglyph is defined as a rock art which comes into being by moving or arranging objects within a landscape to form a design. What Konkan geoglyphs special and remarkable is that it is the only proof of human settlement in that region and first instances of human creativity in the country. They also depict some forms of fauna that have ceased to exist in this region. The vast concentration of geoglyphs on the Konkan region's lateritic plateaus is the most spectacular open air ensemble of Mesolithic to early historic age human expression of rock art.
The geoglyphs  are evidence of cultural legacy of 12000 years old and are depicted in Southern Maharashtra and Goa. The Geoglyphs of Konkan Region comprise 9 clusters of geoglyphs in the states of Maharashtra and Goa. They were incised with stone tools on laterite rocks and mostly show faunal themes.
The petroglyphs or geoglyphs  in Ratnagiri region are also known as katal shilpa and believed to be nearly 20,000 years old.
Ratnagiri district is believed to have more than 1,500 geoglyphs spread across over 70 sites. The carvings are in the shape of human figures, birds, animals and geometric forms, though they vary in shape and size from site to site.
The Tentative List in UNESCO mentions seven sites with geoglyphs in Ratnagiri district — Ukshi, Jambharun, Kasheli, Rundhe Tali, Devihsol, Barsu and Devache Gothane, one in Sindhudurg district Kudopi village, and nine sites at Pansaimol in Goa.
A product of human endeavour and effort, JingKieng Jri ( Living Root Bridges) , is an aerial bridge, created by weaving and using roots of an Indian Rubber tree. It is a ficus based rural connectivity and livelihood solutions within dense subtropical moist broadleaf forest eco region in Meghalaya in the estearn extension of the Indian Peninsular Plateau.It facilitates connectivity and disaster resilience in more than 75 remote villages in and near the western region of earth, LRB validate outstanding ingenuity and resilience of an ancient culture, where collective cooperation and reciprocity were the fundamental building blocks.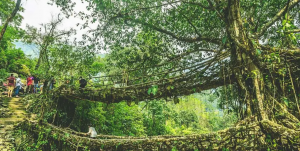 While the creation of such bridges may take 10 to 15 years, their life span is 500 years. These bridges built by Jaintia and Khasi tribes personify human-environment confluence.
Conrad Sangma, chief minister of Meghalaya is elated with the news of Living Root Bridges or JingKiengJri being included in the tentative list of UNESCO Cultural Heritage Site and has twweeted  and thanked the people of his state.
Sri Veerabhadra Temple also known as Lepakshi temple is dedicated to an incarnation of Lord Shiva — Lord Veerabhadra. Located in Andhra Pradesh's Anantapur district, this temple is well-known for its sculptures made by artists of Vijayanagara Empire. Mount of Lord Shiva, the Nandi Bull's monolithic idol  which is 27 feet long and 15 feet tall has been chiseled out of a single granite stone and represents the best of Vijayanagara style of architecture..
The Lepakshi Temple, with its magnificent frescos and murals, is a museum of everlasting art. One of the architectural wonders that may not be seen in any part of the world can be seen here in the form of the Hanging Pillar.