(Airline establishes strong connectivity across South India within five months of commencing operations)
BY TTT NEWS NETWORK
NEW DELHI , 4 JANUARY 2023:
Akasa Air, India's youngest airline, today announced its entry into Telangana with the addition of Hyderabad as the 13th destination to join the airline's fast-growing network. The airline will offer daily flights on the Hyderabad-Bengaluru and Hyderabad-Goa routes starting from 25 January  2023.
In line with its phased but rapid approach to network expansion, in December 2022, the airline announced Goa as its 12th destination connecting Bengaluru and Mumbai. With this launch, Akasa Air will now offer six daily non-stop flights ex-Goa connecting three cities – Mumbai, Bengaluru, and Hyderabad.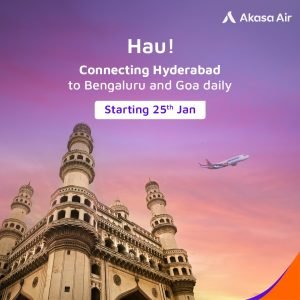 Commenting on the launch, Praveen Iyer, Co-Founder and Chief Commercial Officer, Akasa Air, said, "We are pleased to launch Hyderabad as the 13th destination on our network. The city is an important centre of Information Technology, Biotechnology and Pharmaceuticals and connecting it with Goa and Bengaluru will cater to the strong demand for both, business, and leisure travel. As India's fastest growing airline we have now established a strong presence in South India, in our effort to boost the country's economy by strengthening its important transportation linkages."
Akasa Air, which commenced operations in early August 2022, has been progressively scaling up its operations and has taken delivery of 13 aircraft, carrying over 5.5 lakh revenue passengers in less than six months from the start of its operations. By December 2022, the airline has crossed the milestone of operating over 500 weekly flights and has announced a total of 20 unique routes across 13 cities, namely Ahmedabad, Bengaluru, Kochi, Chennai, Mumbai, Delhi, Guwahati, Agartala, Pune, Visakhapatnam, Lucknow, Goa, and Hyderabad.
It will continue to grow its network to establish a strong pan-India presence with a focus on metro to tier 2 and tier 3 route connectivity, using a fleet expansion plan that adds one new aircraft every 15 days. Akasa Air's fleet size will be 18 aircraft by the end of March 2023 and over the next four years, the airline will add 54 additional aircraft, taking its total fleet size to 72 aircraft.
Flt. Number
From City (Airport)
Dep. Time
To City (Airport)
Arr. Time
Operating Days
Non-Stop / Connecting
Commences January 25, 2023
QP 1415
Bengaluru
10:05
Hyderabad
11:25
Daily
Non-Stop
QP 1416
Hyderabad
12:30
Goa
13:45
Daily
Non-Stop
QP 1417
Goa
14:20
Hyderabad
15:35
Daily
Non-Stop
QP 1418
Hyderabad
16:15
Bengaluru
17:25
Daily
Non-Stop
About Akasa Air
Akasa Air is India's newest and most dependable airline, offering warm and efficient customer service, reliable operations, and affordable fares – all in the Akasa Way. Akasa's youthful personality, employee-centric philosophy, tech-led approach, and culture of service will make this commitment a reality for all Indians. The carrier launched its first commercial flight on 07 August 2022 to support the growing demand across India.
With a commitment to being socially responsible, Akasa Air has placed a firm order of 72 Boeing 737 MAX airplanes, powered by CFM fuel efficient, LEAP-1B engines. The 737 MAX family aircraft deliver superior efficiency in reducing fuel use and carbon emissions, fulfilling the airline's promise of being an environmentally friendly company with the youngest and greenest fleet in the Indian skies.