BY TTT NEWS NETWORK
KOLKATA, 3 JANUARY 2023
The Rs.242 crores Greenfield Maryada Purushottam Shri Ram International Airport in Ayodhya will be completed by June 2023, according to Airport Authority of India (AAI).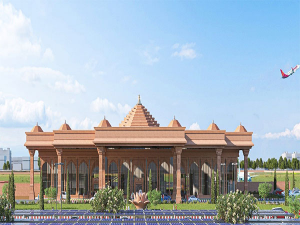 The airport will be set up on 258 acres of land acquired by the Uttar Pradesh government.
The project includes the construction of a terminal building, development of airside facilities.
The new terminal building with total area of 6,000 squares metres and is being designed to serve 300 passengers during peak hours with an annual handling capacity of six lakh passengers.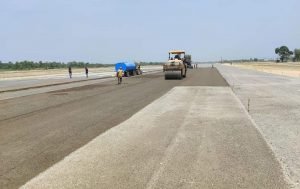 Around 52 per cent of the development work of the project has been completed.
"The design of the airport will reflect the idea and spirit of Ram Mandir, invoking a sense of spirituality and creating a sense of place for all passengers arriving and departing from the airport. The glass facade of the terminal will be designed to recreate a sense of being in the very palace of Ayodhya," the AAI said.
Maryada Purushottam Shri Ram International Airport, is an under-construction international airport which will serve the temple city of Ayodhya in the Indian state of Uttar Pradesh. The airport is located between the NH-27 and NH-330 at Sultanpur Naaka, Faizabad. The Government changed the name of the airport after Lord Shri Ram in 2021. The State Government signed a Memorandum of Understanding (MoU) with the Airports Authority of India (AAI) in February 2014 for the development of the airport.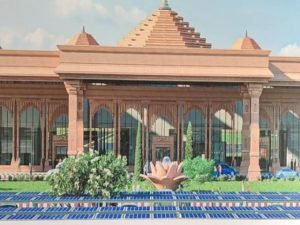 After the completion of the  Ayodhya Airport, Uttar Pradesh  will become the only state in India to have five international airports. UP already has two functional international airports – Chaudhary Charan Singh International Airport (Lucknow) and Lal Bahadur Shastri International Airport (Varanasi). Work is underway to build Kushinagar International Airport (Gorakhpur) and Noida International Airport (Jewar).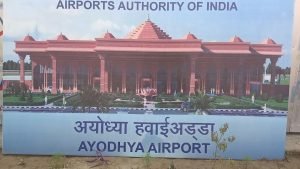 The walls of the airport terminal building's lounge area will be embellished with replicas of the principal weapons of Lord Ram, a bow and arrow, and various other arte facts from the Ramayana era.
All the  passengers entering the airport will get an ambience that would take them back to the  era of the Ramayana , as described in the epics. The airport will boost the tourism and will  enable devotees from across the globe to land directly in Ayodhya and visit the Ram temple.