BY DEBAJYOTI CHAKRABORTY
KOLKATA, 29 DECEMBER 2022
With a whopping  1.62 crores  numbers of footfalls of tourists this year, the buoyant Jammu and Kashmir Tourism department has  now organised a series of  year ending festivals at tourism hotspots to add further attractions.
Over 22 lakhs tourists have travelled in the Kashmir valley alone which is the highest since independence.
Talking to The Travel and Tourism Times, Mr. Ahsan Ul Haq, officer in charge of J&K Tourism Office in Kolkata said that on 30 and 31 st December this year several festivals have been organised – Saasar and Patnitop winter bonanza, Vibrant Bhaderwah Festival, Gulmarg Winter Festival etc.
" Already all hotels, guest houses, homestays, resorts have been booked and flight tickets have been sold.  Year 2022 has been a glorious  year for Jammu And Kashmir Tourism as all past records have been broken, new destinations, homestays, adventure sports etc have been added and after the two year covid -19 pandemic outbreak tourism has fully bounced back and is all set to scale new heights in 2023," added Mr. Ahsan Ul Haq.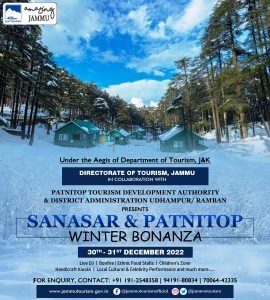 After the abrogation of the Article 370 and restoration of peace and beefing up security, Jammu and Kashmir has regained its position as the numero uno domestic  tourism destination in the country. Rs.786 crores have been allocated for boosting the travel and tourism sector of Jammu and Kashmir.
A new terminal building of Srinagar Airport has also been approved by the union ministry of civil aviation as the existing airport becomes  crowded and busy with record number of flight arrivals and departures.
Already events like musical evenings have been organised at Gulmarg and Pahalgam by the tourism board. The department of tourism of J&K in collaboration with Indian Army and Poonch Development Authority has successfully organised a 4 day mega cultural event , 'Frozen Fiesta' at Poonch. The event started on 23 December and tourists were greeted at Bhimber Galli- the gateway to the picturesque Poonch district. The tourists had an adventurous and lifetime experience during travelling by  the Mughal Road  through Peer ki galli and got themselves acquainted with the rich Pahari cultures.
Under the aegis of department of tourism, Jammu and Kashmir, the directorate of tourism, Jammu in collaboration with Patnitop Tourism Development Authority and district administration of Udhampur/ Ramban presents Sansar and Patnitop Bonanza  on 30 and 31 December. It will have live DJ, bonfire, ethnic food stalls, childrens zone, handicraft kiosks, local cultural celebrity performances and much more…….
Directorate of Tourism, Jammu  in collaboration  with Bhaderwah Tourism Development Authority and district administration Doda presents Vibrant Bhaderwah festival on 31 st December. It will have cycling, rafting, handicraft kiosks, paragliding, sledging, snow tube, local cultural performances and adventure activities.
" Folks! In just about a few days, it will be time to bid adieu to this year and welcome the new one with open arms … And what better way to celebrate is to enjoy with your loved ones at Bhanderwah…. Shout the new year countdown," writes Jammutourism in instagram@ vibrantbhanderwahfestival.
Department of Tourism of Jammu and Kashmir welcoming 2023 organises Gulmarg Winter Festival on 31 December at Gulmarg Golf Club. The main features are – food, music and DJ Night.