BY  SUSHMIT BISWAS | TUHINA BISWAS | ASHIRA BISWAS
LONDON, 28 DECEMBER 2022
To celebrate their daughter Ashira Biswas' recent recognition by the Norwegian Peace  Committee, Sushmit Biswas ( IPS), Additional Director General of Police (ADGP) of  Rajasthan and his wife Tuhina Biswas are spending  their winter holidays in England with Ashira.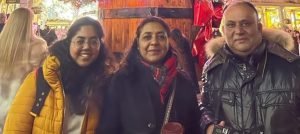 The twinkling Christmas lights that drape across central London streets adds magic to the city. It may be mentioned that Queen Victoria's consort, Prince Albert, is usually credited with  having introduced the Christmas tree into England in 1840.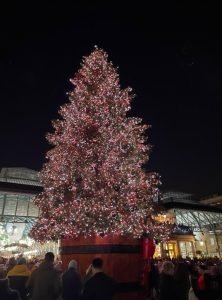 On Xmas eve (24 Dec 2022) they walked 5-6 miles through the hotspots of the Xmas lights in  London, which included Covent Garden, Trafalgar Square, Bond Street, Piccadilly, Oxford  Street, Regent Street and Carnaby Street.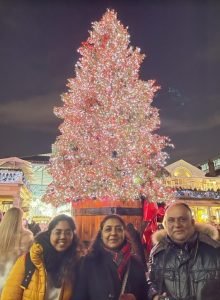 Covent Garden is London's number one destination to enjoy the magic of Christmas. the 55- foot-tall Covent Garden Christmas tree comes from the same farm (Woods Farm in Solihull near Birmingham) that the Royal Family get their trees from, and to make the process as  sustainable as possible, three trees are planted for every tree cut down. (Covent Garden is  not a street but a district on the western edge of the West End. In the 1500s, this plot of land  was the vegetable garden, or 'convent garden' of the monks of Westminster Abbey—hence  the name.)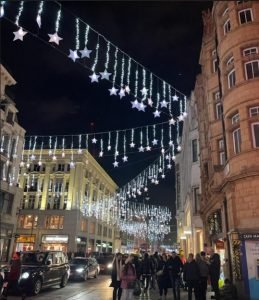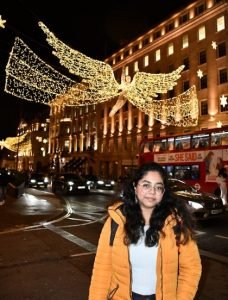 Meanwhile, during the Second World War, the Norwegian king and government fled to  London when their country was occupied. As a token of gratitude to the people of London for  their assistance, since 1947, and like every year, Norway has given an 80-foot Christmas  spruce tree (tallest in London) to Great Britain this year, which is displayed in Trafalgar Square,  the center point of London. The lighting over the tree is vertical strings of lights in the  traditional Norwegian style.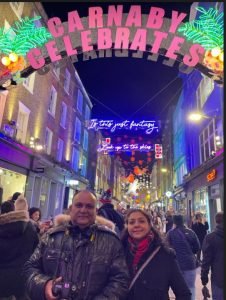 Bond Street is known for the flagship stores for top fashion brands of the world. For a long  time, the Xmas lighting theme on this road has been peacock, a symbol of ostentatious  lifestyle that reinforces the key positioning statement of these shops. However, this year the  motif in the Xmas lights over Bond Street changed the theme to crown as a tribute to Queen  Elizabeth II who died this year while also taking inspiration from the magnificence of The  Crown Jewels. The stores themselves on this street are individually decorated as Xmas gift  boxes.
The original 1954 Christmas light display on Regent Street featured lit up angels, and this  display has returned this year. These angels are made from LED lights—300,000 of them in  all—and have 17-metre wingspans and 15-metre trains. The theme was dangling stars over  London's busiest shopping area of Oxford Street.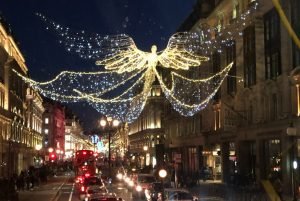 Carnaby street in the party district of Soho, had lyrics of Queen band (Freddie Mercury etc) masterpiece 'Bohemian Rhapsody'- "Is this the real life"; "Look up to the skies".
(Photography: Ashira Biswas, Third Year B.Sc. Student of Quantitative Economics (Major) and  Human rights (Minor) at The University of Oxford, UK. )