BY DEBAJYOTI CHAKRABORTY
AIZAWL, 5 OCTOBER 2022
The most popular festival celebrated in Mizoram, the Anthurium Festival is a successful tourism promotion venture of the Tourism Department. This two-day festival is held annually at the Tourist Resort Reiek, located in Reiek, a quaint and picturesque village which is about an hour's drive from the state's  capital, Aizawl.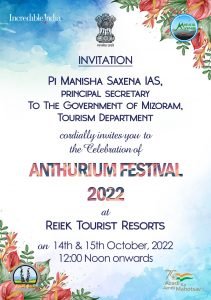 Truly representing the state, it is celebrated as a festival amidst nature during the peak season of the beautiful and exotic anthurium blossoms. Best described as an extravaganza of culture, music, dance, games, fashion shows, handloom and handicrafts exhibitions, and traditional cuisines, it is set against the majestically verdant backdrop of Reiek Mountain, blooming in a kaleidoscope of colourful anthurium flowers.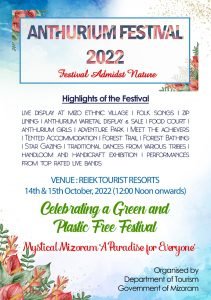 The inception of the Anthurium Festival is the large-scale production of anthurium flowers by the Mizo womenfolk. It is because of the efforts of the Horticulture Department, Government of Mizoram, that the anthurium flowers grew to be so popular.
Serving as an initiative to help support housewives to become financially independent, this cultivation instantly gained popularity and eventually led them into the export business. The cut flowers are of the highest standards as compared to the rest of the country.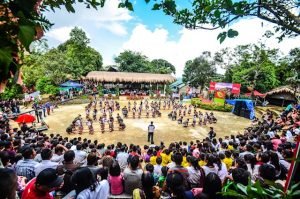 Thus, came the establishment of the Zo Anthurium Growers Society in Mizoram. These cut flowers are exported to various parts of the country and even abroad. The Tourism Department, in collaboration with the Horticulture Department, launched the Anthurium Festival in 2006 to recognize and popularize this movement.
This year's Anthurium Festival is going to be celebrated on 14 th and 15 th October, 2022 after a hiatus of two years due to the covid -19 pandemic outbreak.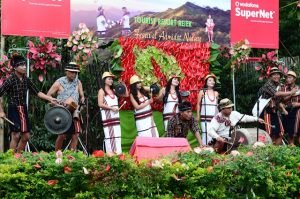 Smt. Manisha Sinha, Principal Secretary of Tourism Department of Government of Mizoram said that the Anthurium Festival 2022 will begin from 12 noon onwards.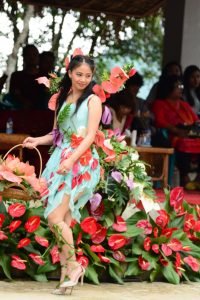 Preparations are in full swing as the festive fervor has begun. Apart from showcasing the traditional dances and folk songs from top artistes, Tourism Department has planned for a variety of other activities that includes Live Display at Mizo Ethnic Village, Folk songs, Anthurium Varietal Display and sale, Anthurium Girls, Forest Trail, Forest Bathing, Handloom and  Handicraft Exhibition, Food Court, Star Gazing,  and Adventure Park where one can experience zip lining, Rifle Shooting and High Rope Course amongst many others.
Tented Accommodation amongst the lush green forest is available for overnight stay at the camping ground infrastructure within the festival venue. Interested persons may contact Mizoram Tourism Department @ 9612363841 for bookings.
Reiek , situated at a height of 1584 metres, is surrounded by thick lush green temperate trees and bushes. The spirit of the festival rejuvenates the mind and body and takes away the stress and monotony of daily life. Large number of domestic and foreign tourists visit during the time of this festival attracted to the natural beauty and culture of  Mystical Mizoram- a paradise for everyone.
This year the celebration will be green and will be a plastic free festival.