BY TTT NEWS NETWORK
KOLKATA, 9 FEBRUARY 2023
About 75 atheletes from India and abroad are expected to participate in the 21 kilometres long Asia's first frozen lake marathon at Pangong Lake in union territory of Ladakh.
The marathon which will be held at an altitude of  13,862 feet above the sea level has been named , The Last Run, to remind the people about the climate change and the need to save the Himalayas.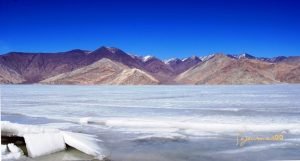 Deputy Commissioner Leh tweets  , "@LAHDC_LEH
@DC_Leh_Official and  @utladakhtourism
organising Pangong Frozen Marathon-2023 with msg of Sustainable Development and Carbon Neutral Ladakh. It will be world's highest frozen marathon. @DIPR_Leh, @tashi_gyalson."
Registrations have begin and interested high altitude adventure sports lovers have to opt for the 9 days and 8 nights package which  will be all inclusive. Adventure Sports Foundation of Ladakh is organising this frozen lake  marathon.
The package includes training, stay, food and airport transfer. The marathon will also boost the tourim of Ladakh in the world tourism map.
The 700 squaremetre Pangong Lake spreads across the border of India and China. While one third area of the Pangong lake is situated  under Indian territory , the rest   two – third portion belongs to China. The temperature touches – 30 degree celcius from November to March making the salt water Pangong Lake frozen with ice.
In Norway also frozen lake marathons take place.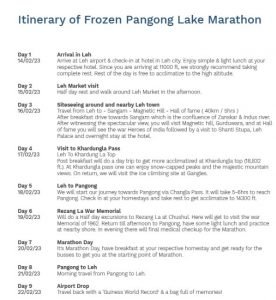 @LAHDC_LEH,@DC_Leh_Official and @utladakhtourism organising Pangong Frozen Marathon-2023 with msg of Sustainable Development and Carbon Neutral Ladakh.

It will be world's highest frozen marathon.@DIPR_Leh @tashi_gyalson @PIB_India @tourismgoi @PBLadakh @lg_ladakh pic.twitter.com/4EwnvMMEGS

— Deputy Commissioner Leh (@DC_Leh_Official) February 7, 2023