BY TTT NEWS SERVICE
KOLKATA, 28 SEPTEMBER 2022
According to the latest survey by the Asian Rhino Specialist Group (AsRSG) the greater one horned rhino ( Rhinoceros Unicornis) population found only in Asia in  the three countries  India, Nepal and Bhutan are  4014.
The Biannual survey report is just published in the month of September and has claimed that the population is increasing since the past few years. Out of the total 4014 one horned rhinos about 3262 numbers are found only in India.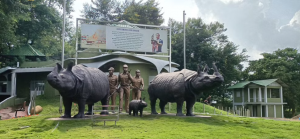 The other 752 are located in Nepal and Bhutan. In India Assam has the highest single horned greater rhino population.
The figures available are – Kaziranga National Park ( 2613), Orang National park ( 125), Pobitora Wildlife Sanctuary ( 107), Manas National park (40), Jaldapara national Park ( 287), Gorumara National Park ( 52), Dudhwa National Park (38).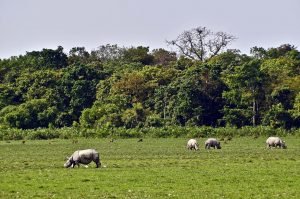 The highest population of one horned rhino is found in  Kaziranga National Park. The Manas National Park  and Kaziranga National Park, both  in Assam are UNESCO World Heritage Sites.
According to the survey report there has been a 167 percent growth in population since 1980. The biggest threat of the one horned rhinos are from illegal poaching and floods.
In 2021, only one poaching incident has been reported and also one so far in 2022.
The Kaziranga National Park and Manas National Park are working to increase the grassland and restore back the habitat of the majestic animal.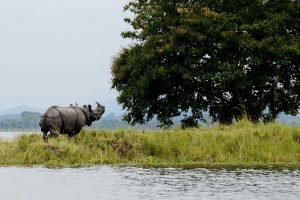 In  Nepal the rhino  population growth is three percent and is found in Chitwan National Park,Parsa National Park, Bardia National Park, Shuklaphanta National Park.
Out of the last remaining five rhino species in the world , the highest is the white rhino with 15,942 numbers, followed by black rhin with  6195 numbers, one horned rhinos with 4014 numbers, Sumatran rhino with 80 numbers and Javan rhino with 76 numbers.
The last surviving species of rhinos are found in Asia and Africa.
Indian Rhino Vision 2020 ( IRV 2020) has been taken up by the union government to increase the population of  one great  horned rhino population in the country.
A  Memorial made of ashes collected from rhino horns was unveiled a few days ago  at the Kaziranga National Park in Assam. The memorial, which has three rhino sculptures, has been  named "Abode of the Unicorns".