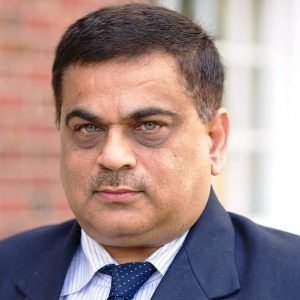 BY DR. RAVINDER PALL SAINI
IFS (RETIRED)
MEMBER, BOARD OF MANAGEMENT
FOREST RESEARCH INSTITUTE,
DEHRADUN
DEHRADUN, 4 OCTOBER 2022
"The Greatness of a nation and its moral progress can be judged by the way its animals are treated," said the champion of world peace, Mahatma Gandhi.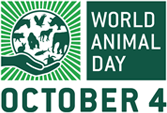 Today is World Animal Day and this year the  theme is:  "Shared Planet" highlighting  that the world belongs to all living creatures and not just humans. All the animals in our ecosystem co-exist to balance nature's ecology. It is important to note that all animals play an equally  crucial role in conserving  our environment and ensuring  wellness of human health as well.
Animals play a crucial role in maintaining the fragile ecological balance of the earth.
QUOTES ABOUT ANIMAL LOVE AND PROTECTION:
"Wildlife in the world can only be protected by the love of compassionate hearts in the world."
………..Mehmet Muratildan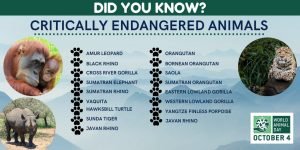 "Like us, animals feel love, joy, fear, and pain, but they cannot grasp the spoken word. It is our obligation to speak on their behalf, ensuring their well-being and lives are respected and protected."
……….Sylvia Dolson, Joy of Bears.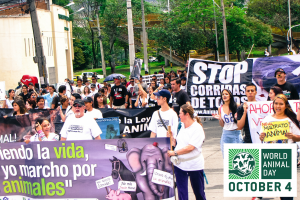 "Each species is a masterpiece, a creation assembled with extreme care and genius."
…………………..E.O. Wilson.
"Humankind must learn to understand that the life of an animal is in no way less precious than our own."
……………Paul Oxton.
ORIGIN OF WORLD ANIMAL DAY:
World Animal Day was initiated by German born cynologist Heinrich Zimmermann. He organized the first World Animal Day on March 24, 1925, at the Sport Palace in Berlin, Germany. Many years later the day was changed to 4 October.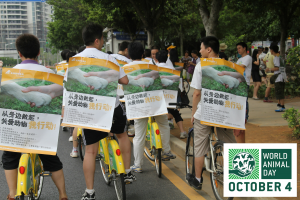 World Animal Day also ensures that efforts are continued to be made to provide the animals with better rescue shelters, launch better animal welfare programmes and raise necessary funds for their conservation projects.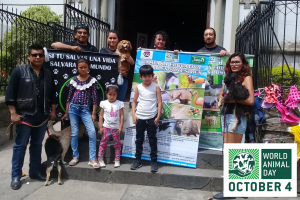 ABOUT WORLD ANIMAL DAY :
A GLOBAL MOVEMENT AND CAMPAIGN WITH A MISSION TO RAISE THE STATUS OF ANIMALS IN ORDER TO IMPROVE WELFARE STANDARDS AROUND THE GLOBE.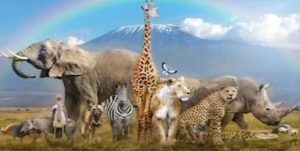 Government departments, city authorities, animal welfare organisations, celebrities, community groups, youth and children's clubs, businesses and individuals organise a huge variety of inspiring events that embrace all animals and the unique concerns of each, in every country. It's something that everyone can join in with regardless of nationality, religion, faith or political ideology.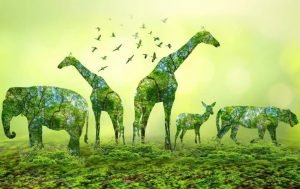 World Animal Day belongs to everyone!
Events draw attention to animal issues and make them front page news around the globe – a vital catalyst for change. Through increased awareness and education, the World will become a fairer place for animals.
According to the World Wide Fund for Nature (WWF) report, the Global Living Planet Index 2020 states that between 1970 and 2016, the population of mammals, birds, amphibians,reptiles and fish decreased by an average of  68 percent.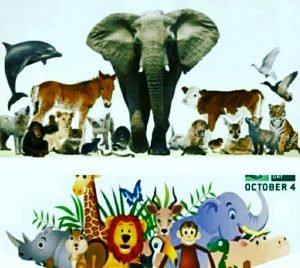 The most significant losses (94%) are caused by populations of wild species living in Latin America. In Africa populations decreased by 65 %, in the Asia – Pacific region population decreased by 45%,  in North America by 33 % and in Europe and Central Asia by 24 %.
World's most endangered animals in 2022 are : Amur Leopard, Rhino,Orangutan, Gorilla, Saola, Vacuita, Sunda Tiger,Yangtze Finless Porpoise, Turtle and Elephant.
India's most endangered animals and birds in 2022 are : the Greater Adjutant stork, Great Indian Bustard,  Western Hoolock Gibbon, Lion Tailed Macaque, Asiatic Lion, Kashmiri Red Stag etc.
Reason :
Loss and degradation of habitat ( deforestation) ,over exploitation (poaching, overfishing), invasive species, climate change, nitrogen pollution.

Key Facts:
·        Over 1,000 events are run every year across the World
·        #WorldAnimalDay trended in 56 Countries on  2019
·        And reached 39 million people around the globe
·        Many celebrities across the World support the campaign
·        World Animal Day has 97 Ambassadors across 75 Countries
·        The WAD Grant has supported 12 projects since 2014
·        Naturewatch Foundation has been the driving force for over 15 years
·        World Animal Day has been celebrated on October 4 for over 90 years