BY TTT NEWS SERVICE
KOLKATA, 29 SEPTEMBER 2022
The state cabinet led by Chief Minister of Uttar Pradesh, Yogi Adityanath has cleared the proposal to set up the first Tiger Reserve in Bundelkhand region under the Wildlife Protection Act 1972.
The proposed Tiger Reserve will span over 52,989.863 hectares of land including 29,958.963 hectares of buffer zone and 23,031 hectares of core area.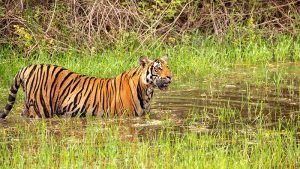 It was already notified as Ranipur Wildlife Sanctuary in the Chitrakoot district of Bundelkhand region.
Ranipur Tiger Conservation Foundation will be established soon and the required number of posts for forest officials will also be sanctioned.
Covered by the tropical dry deciduous forests, Ranipur Tiger Reserve will be a home to tiger, leopard, bear, spotted deer, sambhar, chinkara, wolves, wild dogs, fishing cats,  viper, python, cobra, crocodiles, and several species of birds.
It will act as a game changer in the Bundelkhand region as it will provide local employment generations, besides conservation of the Big Cat.
Uttar Pradesh will now have four Tiger Reserves – Dudhwa Tiger Reserve in Lakhimpur , located in the Indo – Nepal border, Pilibhit Tiger Reserve in Pilibhit  and Amangarh Tiger Reserve in Bijnor.
One of the largest tiger reserves in India is the Dudhwa Tiger Reserve.
Project Tiger by the union government was undertaken in 1973 and till date the country has 53 reserves.
Recently, the central government has translocated eight cheetahs from Namibia in Africa to Kuno National Park in  Madhya Pradesh. PM Narendra Modi himself has released the cheetahs on his birthday.
Cheetah became extinct in India in 1947, when the last three species of the fastest mammal on earth were poached.
The number of Big cats in the country has also increased in the past few years . The tiger census is taken every four years. India is also called the land of Tigers.
Best time to visit is between November to March. Ranipur Wildlife sanctuary was founded in 1977.There is very dense and good forest of Bambu, Palas, Khair, Mahua, Dhau, Salai, Tendu etc. The nearest railway station is Manikpur.
A critical decision to strengthen the fight to save our tiger population along with the conservation of our wildlife and forest land. The local population will also benefit from the eco tourism opportunities this will generate. #RanipurTigerReserve #Bundelkhand pic.twitter.com/sheyh3ZBr9

— Jitin Prasada जितिन प्रसाद (@JitinPrasada) September 28, 2022