(Traditional & Local Architecture Influence on upcoming Terminal Buildings at various airports across India)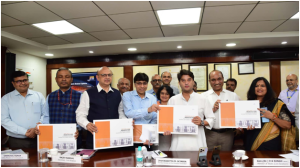 TTT NEWS NETWORK
NEW DELHI, 25 AUGUST 2023:
Union Minister of Civil Aviation, Jyotiraditya M. Scindia released a coffee table book on traditional and local architecture of various terminal buildings at AAI airports in New Delhi today. The book highlights the facade of terminal buildings at 19 airports. This publication is a remarkable endeavour that portrays the upcoming Airport Terminal buildings in the light of traditional values.
The future terminals will ingeniously blend Indian architectural excellence with practicality, effectively conveying the essence of our heritage.
The airport terminal building orchestrates the seamless transition between aircraft and ground transportation, serving as a conduit for the various services associated with air travel. A terminal becomes a gateway that shapes visitors' initial impressions of a city. They are no longer just simple structures of convenience and have to be seen as landmarks of the city, as marvels, which welcome visitors to the city and inspire a feeling of awe and wonder in travellers.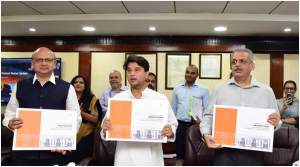 The Prime Minister  Narendra Modi has a vision to showcase the heritage of India's rich social and cultural diversity and he has played a significant role through his ardent efforts in promoting the cultural heritage of India and putting it on the global map. Following his footsteps, Minister of Civil Aviation,  Jyotiraditya M. Scindia envisaged to combine Indian architectural brilliance with functional ease in existing and upcoming terminal buildings to convey the essence of Indian heritage to each passenger or passer-by. These terminal buildings are imbued with a sense of heritage, making them not just memorable structures but also symbolic expressions of the nation's identity.
Under his guidance, Airports Authority of India has tried to create Airport Terminals to be remembered as memorable and an iconic addition to the city-scape.  The Terminal buildings stand not merely as physical entities but as embodiments of an idea that reflects the mosaic of India's culture, tradition, and art. These terminals are poised to be emblematic of local communities' pride and a source of national inspiration.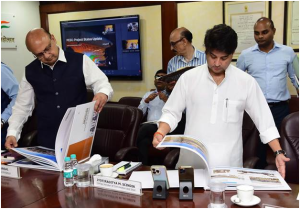 Mr. Rajiv Bansal, secretary, Ministry of Civil Aviation, Mr. Chanchal Kumar, OSD, Ministry of Civil Aviation,  Mr. Zulfiquar Hasan, DG, BCAS, Mr. Vikram Dev Dutt, DGCA, Mr. Sanjeev Kumar, Chairman, AAI among others were present at the event.