(Time to bid farewell to the sacred bird, Black-necked cranes, which have been in co-existence with the local community of Bumdeling and Yangtse since from time immemorial.)
BY TTT NEWS NETWORK
KOLKATA, 28 JANUARY 2023
The Black-necked Crane Festival at Gangtey Monastery welcomes the migrating cranes to the country. Now as it's time for them to leave, Trashiyangtse Dzongkhag in collaboration with Bumdeling Wildlife Sanctuary, Royal Society for Protection of Nature( RSPN) and the International Crane Foundation will host one of the largest festivals in eastern Bhutan to bid farewell to this endangered majestic bird species as they fly back north for summer.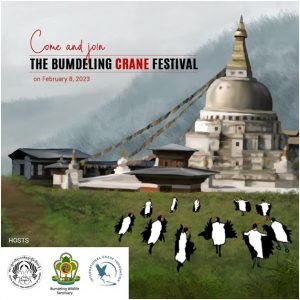 The Bumdeling Crane Festival will be held on February 8, 2023 where local farmers and students will perform various cultural programs, and visitors can enjoy local cuisine, beverages and games.
Black-necked crane is an endangered bird species that migrates from the plateaus of Tibet, over the himalayas, to the picturesque valleys of Phobjikha and Bumdeling in Bhutan during winter. Considered a 'Lhabja' – heavenly birds – the cranes hold a special place in local folklore and songs. This finds ample expression during the annual Black-necked crane festival held at the courtyard of Gangtey Goenpa in Phobjikha Valley.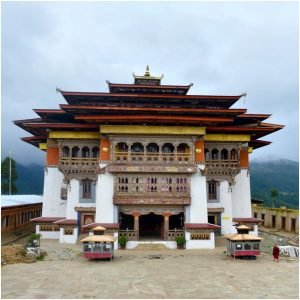 Places like Phobjekha, Khotokha , Bumdeling and Bumthang are important habitat areas in Bhutan for the Black-necked Cranes. Phobjekha is located at 3000 metres above sea level with a wide wetland coverage valley. It is one of the important Ramsar sites in Bhutan. Every year, over 70 % of Black-necked Crane birds migrating to Bhutan arrive in Phobjikha.
The Annual Black-necked Crane festival initiated by the Royal Society for Protection of Nature (RSPN) in 1998 as a part of the community based‐sustainable tourism serves as an important environmental and cultural heritage. The center of attraction in the festival is the Crane Dance performed by local school students.
The vast U-shaped glacial Phobjikha Valley, which is at an elevation of about 3,000 metres (9,800 ft) and which has marshy land. The Nake Chhu river runs through this valley. The monastery commands striking views of the Phobjikha Valley below. The Black Mountain Region is inhabited by nomadic shepherds and yak-herders.
The Bumdeling Wildlife Sanctuary (BWS) is located in the North Eastern part of Bhutan is a UNESCO World Heritage site.  In the North it shares an international boundary with China (Tibetan Province) and in the Northeast with India (Arunachal Pradesh). It forms an Eastern Himalayan Eco-region with a wide range of ecosystems ranging from warm cool broadleaved forest to Alpine meadows. The vegetation types in Bumdeling Wildlife Sanctuary are Alpine scree slopes , Alpine pastures and meadows, Fir forest, Hemlock forest, Mixed and other conifer forests, Pine forests, Evergreen oak forest, Cool broad-leaved forest, Bamboo thickets, Alder forest, Warm broad-leaved forest and Temperate pastures and meadows.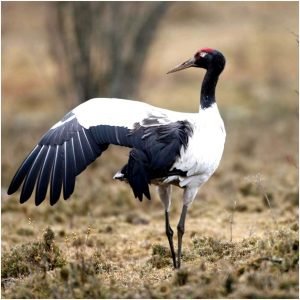 Bumdeling Wildlife Sanctuary is home to over 300 species of birds, 42 types of animals, and more than 700 plants.