BY TTT NEWS NETWORK
KOLKATA, 27 JANUARY 2023
The West Bengal forest department has successfully completed the first ever  census work of the Himalayan Black Bear in the green patches of North Bengal.
Mr. Debal Roy, Chief Wildlife Warden of West Bengal has informed that for the first time the state forest department has conducted the survey work of the Himalayan Black Bear and has been successful.
A total of 108 samples have been collected and sent for  testing to CSIR- Centre for Cellular and Molecular Biology in  Hyderabad. Out of which eighty eight are hairs and 20 are blood samples.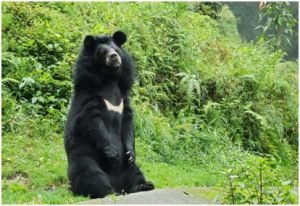 The forest officials have been trained to conduct the black bear census work in November last year and the month-long census job started in mid December last year and completed in the middle of this month.
As the black bear census has been conducted for the first time, few areas have not been covered due to some problems. Next time all the areas will be covered.
The area in North Bengal  has been divided into 200 sectors and the exact numbers will be known from the unique DNA testing of the hairs and the blood samples.
Census of Himalayan Black Bears are quite tough compared to the tiger census, forest officials added.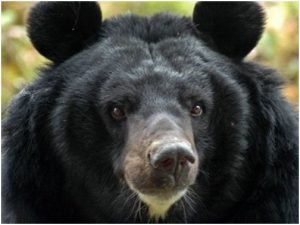 North Bengal Forest department sources said that the census has been done also at Buxa Tiger Reserve, Gorumara National Park, Jaldapara National Park, Chapramari Wildlife Sanctuary, Senchal Wildlife Sanctuary and Neora Valley National Park.
The Himalayan Black Bears are descending  mainly in search of food, habitat loss and climate changes.In recent times the human – animal conflict has increased.
Two types of bears are found in West Bengal- Himalayan Black Bear and Sloth Bear.
The Himalayan black bear (Ursus thibetanus laniger) is a subspecies of the Asian black bear found in the Himalayas of India, Bhutan, Nepal, China, and Pakistan. They are omnivorous creatures (like most bears) and will eat just about anything. Their diet consists of acorns, nuts, fruit, honey, roots, and various insects such as termites and beetle larvae. The Himalayan black bear is listed as vulnerable on the International Union for Conservation of Nature's (IUCN) Red List of Threatened Species.