BY DEBAJYOTI CHAKRABORTY
KOLKATA, 12 SEPTEMBER 2022
Harshit Singh of Burnpur has been the topper from West Bengal with an all india rank of 112 in Joint Entrance Examination (JEE) Advanced 2022 examinations.
Indian Institute of Technology (IIT) Mumbai has announced the results of the JEE Advanced 2022 results.
Harshit Singh, a meritorious student throughout his academic career has passed the CBSE class ten board examinations from Burnpur Riverside School (BRS), Burnpur  and class twelve board examinations from Kashinath Lahiri Public School in Burnpur.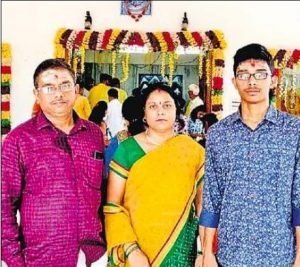 The JEE Mains score of Harshit Singh was 656, which he further improved in JEE Advanced and ranked 112. He was a student of FIITJEE Durgapur campus.
Talking to TTT, Harshit Singh  said that hard work and proper guidance is the key to his success. " My parents and my brother who is taking preparations for the CAT have given constant inspiration for my achievements,"he added.
His grandfather came from Balia in Uttar Pradesh and settled here and used to work in the iconic Indian Iron and Steel Company (IISCO) in Burnpur and father, Dhananjay Singh owns a family run transport business. His mother is a housewife.
He has got 233 out of a total 360 marks.  He now wishes to study computer science and engineering (CSE) from any of the top  Indian Institute of Technology (IIT).
He has earlier bagged the 14 th rank in West Bengal Joint Entrance Examinations (JEE) to study engineering.
His favorite sports is playing basketball and he has been a regular basketball player in his school and Sail competitions.
Himanshu Sekhar of North Bengal became second in West Bengal with a all india rank of 193. Kolkata girl, Janvi Shaw has bagged the third position in the state with an all india rank of 258.
All are students of FIITJEE West Bengal Study centres in Kolkata and North Bengal.
All three of them will take admissions in IITs.