BY TTT NEWS NETWORK
BURNPUR, 17 DECEMBER 2022:
On Saturday Burnpur Riverside School ( BRS) Burnpur, organized its Annual Sports at Hostel Ground in  Riverside Township. After a hiatus of almost two years the annual sports event took place this year. Due to the outbreak of the covid -19 pandemic the mega  annual sport event could not be organised  in the past two years. The Annual Sports epitomizes the zeal, talent and spirit of sportsmanship of the students of BRS.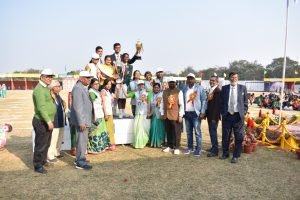 The programme commenced with the arrival of the highly distinguished Chief Guest, Prof. Sadhan Chakraborty, Vice-Chancellor, Kazi Nazrul University, Asansol. The Sports Flag was hoisted followed by inspection of the contingents by the Chief Guest.  After that , the Grand March Past performed by the students delivered a strong message of camaraderie and unity.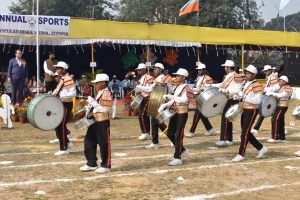 The Director and Principal of the school, Mr. Sushil Kumar Sinha, delivered the welcome speech, underlining the notable achievements of the school. Then, the Chief Guest motivated the students with his insightful and encouraging words. The oath taking ceremony followed next, whereby the students solemnly pledged to uphold the spirit of sportsmanship for the glory of sport and the honour of the school. The theme for this year's mascot was National Education Policy (NEP).
Tiny tots of sub-junior section displayed the mascot by dancing to the rhythmic beats. The class-wise colourful drill followed next promoting the initiative of 'Fit India'. The day progressed with the various inter-house events with respective prize distribution to winners in the interim.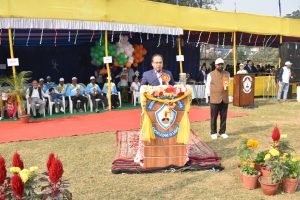 Up next were the parents', staff and teachers' events. The Final Prize Distribution witnessed the 'OverallChampion' and 'Sports Champion' trophies, both bagged by the winning Ganga House. Then the Vote of Thanks was proposed by the School Vice Principal. Finally, the eventful day culminated with the lowering of the Sports Flag and the National Anthem being proudly sung by the entire gathering.
Mr. M.E.Shamshi, CGM (BE) of ISP, Burnpur, Mr. S.K.Mago, general secretary of BRS Educational Society, Mr. Amitabha Mukherjee, former MLA, Mr. Prabir Dhar, founder of Burnpur Social Welfare and Voluntary Blood Donors Association, Smt. Kuljit Kaur, Principal of BRS Chittaranjan  were also  present.