TTT NEWS SERVICE
NEW DELHI, 1 JULY 2022
Justin Trudeau,  the Prime Minister of Canada has announced plans to set up a new FEDERAL TASK FORCE, which will also address  the issues of  the unprecedented delays in tackling the immigration applications , airports and processing of passport applications along with a host of other issues.
The members of the Task Force consist of  the cross section of the ministers.
The PMO in Ottawa of Canada has issued a press communique – : "The Task Force will drive action to improve the processing of passports and immigration applications by identifying priority areas for action
and outlining short and long term solutions, with a focus on reducing wait times, clearing out backlogs and improving the overall quality of services provided to the Canadians. As labour shortages continue to lead to air travel delays around the world, the task force will also monitor the situation at  Canadian airports,".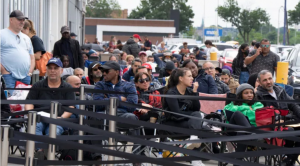 At present the immigration backlog of Canada is over 2 million applications. The three year 2022-2024 Canada's immigration levels plan welcomes immigrants at a rate of 1 percent of Canada's population.
Canada's population was estimated at 38,654,738 on April 1, 2022, an increase of 127,978 people (+0.3%) from January 1, 2022.
The three year plan includes 4.31 lakhs permanent residents in 2022, 4.47 lakhs in 2023 and 4.51 lakhs in 2024.
In the first three months of this year Canada has welcomed 1.08 lakhs new permanent members.
Several hundreds of people have been screen waiting in long queues at the passport office in Montreal. Many Canadians have been cramped out waiting for a long time in the passport offices.
Members of the task force, which is co-chaired by Marci Ien, the minister responsible for Women and Gender Equality and Youth, and Marc Miller, the minister responsible for Crown-Indigenous Relations, also includes:
Tourism Minister Randy Boissonnault, Mona Fortier, president of the treasury board, Housing Minister Ahmed Hussen,  Rural Economic Development Minister Gudie Hutchings,  Intergovernmental Affairs, Infrastructure and Communities Minister Dominic LeBlanc, National Revenue Minister Diane Lebouthillier,Trade Minister Mary Ng, and, International Development Minister Harjit S. Sajjan.
The ministers responsible for the relevant departments, including the ministers of families, children and social development, the IRCC, and transport, will be ex-officio members of the Federal Task Force.
Canada is aiming at a fast recovery in the post covid -19 pandemic era  and trying to adjust continuously to the fast paced world.
Experts opine that the latest effort of the Canadian PM will help immensely to ease the harassments of the several hundreds of Canadians and  speed up the application process timings.