BY DEBAJYOTI CHAKRABORTY
KOLKATA, 15 FEBRUARY 2023:
Phuket Tourist Association (PTA) , Phuket Provincial Administrative Organisation (PPAO)  and Tourism Authority of Thailand (TAT) organised a road show at the Lalit Great Eastern Hotel in Kolkata on Tuesday.
The Phuket  Roadshow highlighted new products and offerings from Amazing Thailand, joined by Hotels, Airlines, Entertainment providers, and Destination Management Companies (DMCs) from Thailand.

Speaking on the occasion, Ms. Acharapan Yavaprapas, Consul-General of Thailand in Kolkata has informed that the lifting of the RTPCR tests and other  covid -19 protocols by the Indian government is going to give significant boost to tourism in Thailand.  Even there is no requirement  for health  insurance for covid -19 disease, giving a lot of relief to tourists. Phuket has a lot to offer the wedding party groups and the honeymooners.
In her welcome speech,  Khun Sirigesanong Trirattanasongpol , Director Tourism Authority of Thailand New Delhi Office  has said that this was her first official event after taking charge in the City of Joy. Last year 2022 a total of 11 million international visitors arrived in Thailand and India has been the second top  international resource  market with over one million  Indians visited  by air.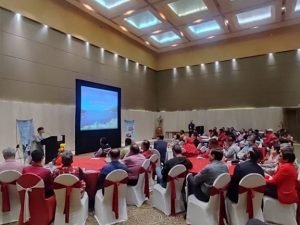 "This year in January over one lakhs Indians have visited Thailand.  The most popular destination for Indian tourists in Bangkok is of course Bangkok, but Phuket is the second most popular destination amongst the Indian tourists and especially wedding planners,"she said .
In 2023 Thailand expects 1.4 million tourist footfalls from India out of a total 25 million inter national visitors.

Mr. Thaneth Tantipiriyakij , Phuket Tourist Association (PTA) President  has said that Phuket, Thailand and India share a lot of history in trading, food, religion and resource, and culture. We are friends. Phuket is the largest island of Thailand.
"  Many cultural opportunities to explore in Phuket. There is amazing nightlife, fantastic water parks, a memorable wedding and shopping paradise, spiritual hub," the PTA President added.
About 24 Destination Management Companies (DMC) took part in the B2B  ( business networking session) meeting in which over 80 numbers of travel agents of Kolkata were present. Besides the 24 DMCs,  three airlines – Air Asia, Go First and Thai Airways also took part in the Phuket Road show in Kolkata.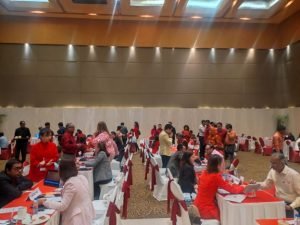 Talking to The Travel and Tourism Times, Mr. Anil Punjabi, Chairman ( East) of Travel and Agents Federation of India (TAFI) said that now all the covid 19 protocols are out of the window the business is going to boom.
" Go First  having direct flights to Phuket from Kolkata and Phuket has always been an evergreen sector for Indian travel and tourism enthusiasts," added Mr. Anil Punjabi.
Mr. Sajid Ahmad Khan, head of Thai Airways in Kolkata said that it was an awesome event and he is very happy to know that there are so much of new to see in Phuket.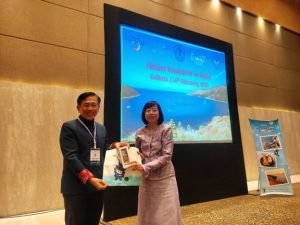 ABOUT PHUKET:
Phuket province is located in southern Thailand. It is the biggest Island of Thailand and sits on the Andaman sea. The nearest province to the north is Phang-nga and the nearest provinces to the east are Phang-nga and Krabi.
Phuket has a large Chinese influence, so you will see many Chinese shrines and Chinese Restaurants around the City. A Chinese Vegetarian Festival is held there every year. While the Chinese community is quite big, there are many other ethnicities bringing all their traditions and festivals from all over the world to Phuket.
Being a big island, Phuket is surrounded by many magnificent Beaches such as Rawai, Patong, Karon, Kamala, Kata Yai, Kata Noi, and Mai Khao. Laem Phromthep viewpoint is said to feature the most beautiful sunsets in Thailand.
It isn't all just beaches though, there is also fantastic classical architecture such as the Goom Restaurant. That and the very welcome atmosphere and the famous Phuket NIGHTLIFE, visitors can see why the island is a hotspot for tourists in Thailand.
Visiting Phuket is easy as there are many travel options.