BY TTT NEWS NETWORK
ASANSOL, 18 DECEMBER 2022
The first  ever Cyclothon – cycling marathon event was organised by Fitnesspree – Gym and Studio in association with Sudha – Udyog – Track and Trail in Asansol today.
More than thirty people including men and women participated in the Asansol Cyclothon today. The event started from Bhagat Singh More and via the routes of Chitra Cinema, Polo Ground, Asansol Club and Rabindra Bhawan ended at Murgasol.
While Fitnesspree – Gym and Studio have two branches in Bhagat Singh More and Murgasole, Sudha Udyog Track and Trail has branches in Chelidanga of Asansol.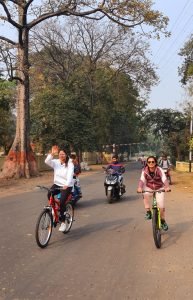 Talking to The Travel and Tourism Times,  C.Murli, member of executive committee of Asansol Chamber of Commerce said that Cyclothon -2022 , or the cycling marathon was organised today to inspire the young  for good health and fitness. "We encourage cycling  as a healthier, cheaper and a smarter sustainable way of transport. Post covid -19 pandemic people of all ages have become health conscious and in the coming month or next year we are planning for a mega 5 kilometres Cyclothon event,"added C.Murli.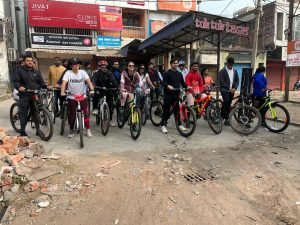 " It is a really satisfactory fact  that not only men but there have been so many women participants today which encourages us to popularise  and organise more such cyclothon events with participants from in and around Asansol in the coming days. There has been so much enthusiasm today which proves cycling as a sport is gaining so much popularity very quickly ," said Priyanka Pareek, owner of Fitnesspree – Gym and Studio in Asansol.
Subha Narayan Gorai, owner of Sudha Udyog Track and Trail in Chelidanga said that due to increased pollution , the Air Quality Index (AQI) is dropping everyday and cycling a few kilometres short distances may help in its improvement as cycle is truly a green mode of transport and world's top cities are promoting cycling these days.
" We intend to promote cycling  and by participating in this event we can all become change makers in our society," added Subha Narayan Gorai.
" The idea is to bring all the cyclists on a common platform, irrespective of the club, community or city they patronage," said Vikash Pareek, one of the organisers and owners  of  Fitnesspree – Gym and Studio.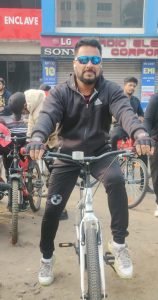 The participants included Priyanka Pareek, Vikas Pareek, Subha Narayan Gorai, Pranay Chatterjee, Sambaditya Munshi, Mamata Kumari, Rupsa Kundu, Yash Agarwal, Abhisekh Roy, Ria Prasad, Rajkumar Routh, Navjot Singh, Ankush Chauhan, Shaunak Ghosh, Adrish Ghosh,  Utkarsh Prasad etc.