BY DEBAJYOTI CHAKRABORTY
KOLKATA, 18 OCTOBER 2022
The AC Milan Thailand together with Segafredo Zanetti organize the first full session (five days)  AC Milan Junior Camp in South East Asia from 3 rd January  to 7 th January 2023 at the Royal Palace Guard 2nd Cavalry division football field in Bangkok in Thailand.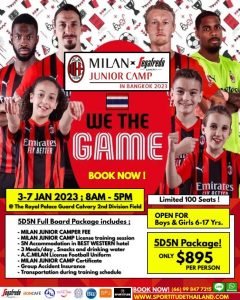 The 1 st full session of the ACM Thailand camp supported by the Tourism Authority of Thailand (TAT), recently launched with applications from young football players aged 6-17 years old, serves both boys and girls from across Thailand, ASEAN and East Asia.
Around the world, the Milan Junior Camps represent the official holiday experience of the Rossoneri Club, where football and fun are the key elements. Taking part in a Milan Junior Camp means undergoing an experience that guarantees sport, a healthy and safe environment, as well as fun and education. All this is courtesy of AC Milan's decade of experience organizing camps for youth.
The Typical training session for the MJC includes two training sessions per day, one in the morning and one in the  afternoon. Each session is two hours long. The rest of the day is taken up by entertainment and recreational activities.
There are limited seats and only 150 seats are available on a first come first serve basis. The cost per person of the 5 day 5 night package is $895 and includes Milan Junior camper Fees, Milan Junior Camp License training session, 5 night accommodation in best western hotel, 3 meals per day, snacks and drinking water, AC Milan License Football Uniform, Milan Junior Camp Certificate, Group Accidental Insurance, Transportation during training schedule etc.
The Project Year Plan 2023 of Milan Junior Camp , Thailand location – Bangkok in January 2023, ChaingMai, Phuket, HUAHIn, KhonKaen, Samui, Chonburi.
A.C. Milan is a leader in development of young talent with Milan Junior Camps in over 40 countries. Since 2005 over 70,000 children have participated in A.C.Milan Junior Camp.
Organised all over the world, A.C.Milan Junior Camps represent the official holiday experiences of the Rossoneri Club, where football and fun are the key elements.
Taking part in A C MilanJunior Camp means undergoing an experience that guarantees sport, healthy and safe environment. Fun and education courtesy of AC Milan's decades of experience in organising summer camps for young people.
The camp has been specially designed for each age group by AC Milan expert coaches and doctors. Typically morning sessions are for technical skills and afternoon for small side games. It will be held from 8 AM to 5 PM.
TRAINING PROGRAMME SCHEDULE:
9 AM to 11.30 AM- training session practically. 11.30 AM to 1 PM- Lunch and relaxing time. 1 PM to 2 PM- theory and Analyse sessions. 2 PM to 4 Pm – Training session practically.
AGE Groups ( Boys and Girls) : 6 to 9 years – 30 person, 10 to 12 years – 40 person, 13 to 15 years -40 person and 16 to 17 years – 40 person.
Accomodation ( optional) – Two Types –
Centara Grand at Central Ladprao Hotel ( five star), Bangkok, Best Western Chatuchak Hotel, Bangkok 9 four star).
Add on are the sightseeing activities of sky train ( BTS line areas) and Bangkok Metropolitan region by Day Trip Services.
ABOUT A C. MILAN:
Founded about 123 years ago, AC Milan is nicknamed the Rossoneri ("Red and Blacks") because of the team's distinctive red-and-black striped jerseys.
TITLES : AC Milan is seven times UEFA Champions League Winner. It is also 19 times Italian league champions,5 Italian cup winners,1 Fifa World Club Cup Winner etc.
Some of the greatest all time soccer legends who have played for A C Milan includes the great Dutch Trio  of  Ruud Gullit , Marco Van Basten, Frank Richkard, Brazilian superstars Kaka and Ronaldinho, Italian legends  Franco Baresi, Paolo Maldini , Andriy Shevchenko,Zlatan Ibrahimovic, George Weah etc.
Please see the attached the ACM application and further information or click here for online application;
ACM Thailand licensed by the SPJ Athlete Management
Office Address: 217/62 Phaholyothin 50 Year 11-5, Khlong thanon, Saimai, Bangkok 10220.
Telephone: +66 2 970 2571, +66 99 847 7215
Email: supajaktrading@gmail.com,